Tankersley rejoins Southwest Missouri Bank staff
November 30, 2011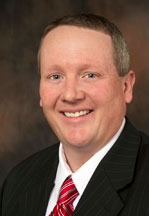 Craig A.Tankersley of Webb City, pictured, has rejoined the staff of Southwest Missouri Bank (SMB). He will be a vice president/lender at the 32nd and Indiana branch.
Tankersley, 40, got his start in banking in 1994 at SMB as a teller. After graduating from Missouri Southern State University, he continued to work in banking in a business development/lending role and spent the last 14 years as a commercial lender, including a position as vice president of the United Missouri Bank's 7th Street branch in Joplin.
Tankersley received the "40 Under 40" Award from the Joplin Tri-State Business Journal in 2008, is a past board member of Joplin Rotary Noon Club, and current board member of the Ozark Chapter of the American Red Cross.