Pro Musica-Joplin wins NEA $10,000 grant
December 06, 2011
Pro Musica, the organization that provides free concerts for Joplin and the 4-state area, was chosen as one of 162 small to mid-sized art organizations to receive a $10,000 grant from the National Endowment for the Arts (NEA).
Kelli Clevenger, Pro Musica executive director, stated she was excited to receive notification of the grant, especially since it is the first NEA grant she applied for. She was hired in February 2011 to take over for Cynthia H. Schwab who founded the group in 1981.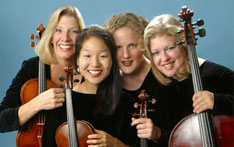 The grant will be used by Pro Musica to present a residency in March 2012 by the Cavani String Quartet, pictured at left. They will present two performances and five educational outreach sessions for elementary students in Joplin Schools. The group's outreach program known as "Team Up with Music" consists of concerts and interactive lecture/demonstrations.
Clevenger says she has worked with the quartet in the past, and knows the excellent level of musicianship and educational opportunities they present.
For other winners of the NEA Challenge America Fast-Track Review Grants go here.