Woods is Harvard-bound
December 30, 2011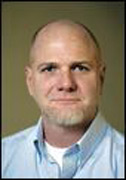 Dave Woods, pictured, market development manager for The Joplin Globe and JoplinGlobe.com, will attend the Maynard Institute for Journalism Education's Media Academy. It will be held January 9-14 and March 12-16, 2012 at Harvard University in Cambridge, MA.
The program, as described by the Maynard Institute, is a performance-driven immersion program in entrepreneurial leadership and management. Conducted in partnership with the Nieman Foundation at Harvard, it helps journalism and media managers achieve success in all departments including editorial, sales and marketing and product development.
The Academy faculty includes top media leaders from news organizations across the country and professors from the Harvard Business School. The training not only includes the two week-long seminars at Harvard but also a self-directed online study hosted by Poynter Institute's News University.
In 2008 and 2010, Woods was one of 20 editors chosen for the Knight Center for Digital Media fellowships at the University of California, Berkeley. In 2009 he was selected to attend Maynard Institute's Multimedia Program for Editors at University of Nevada-Reno, where in 2011 he served as guest facilitator.
Woods became The Joplin Globe's first Internet editor in 2005. Prior to coming to the Globe, he served as news and community relations director on KMXL-FM, and KDMO-AM radio in Carthage. He is a native of Miami, OK, and in 1982 he graduated from Miami High School. He then attended NEO A&M in Miami and The University of Tulsa.