Dr. Todd Redfearn joins Carlson Chiropractic
January 18, 2012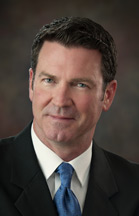 Dr. Todd Redfearn, pictured, a chiropractor from McKinney, Texas, has joined the team at the Carlson Chiropractic Center, according to an announcement by Melissa Miller, spokesperson for the group.
Redfearn received his undergraduate degree from the University of Texas at Arlington and in 1995 his Doctor of Chiropractic from Parker College of Chiropractic (now Parker University), Dallas. He ran his own clinic in Plano, Texas for 7 years, and worked in Ireland for almost 3 years.
His experience also includes studying under and working alongside Dr. Burl Pettibon, founder of the Pettibon Institute, a non-profit organization whose mission is to advance the ability of chiropractors to deliver spine and posture rehabilitation.
After being certified as a chiropractic sports physician by the National Board of Certified Chiropractic Sports Physicians in 2002, Redfearn gained extensive experience in the treatment of sports related dysfunction and injuries.
Married for over 20 years, Todd and Stephanie Redfearn have a son attending the University of Arkansas.
"I am excited to be a part of the team at Carlson Chiropractic Center," Redfearn said. "I look forward to making a difference in the lives of the people of Joplin and the surrounding areas."
The Carlson Chiropractic Center is located at 2318 E. 32nd St., Joplin.