Photo rescue group has 24,000 unclaimed images
May 20, 2012
Based upon the number of photos and non-photographic items that have been turned in, yet still are unidentified or unclaimed, it seems that some people are out of the loop regarding this very significant project run by volunteers. Lost Photos of Joplin is a non-profit group formed just days after the May 22, 2011 tornado to preserve and return photos and other personal property. Joplin Rescue Photos is part of the effort that has posted a large digital file of unclaimed items on Flickr
here
.
Operation Photo Rescue is another non-profit group. It offers free photo restoration to those who are in possession of damaged or soiled photographs caused by the storm.
Over 8,800 photographs have been returned to hundreds of families, according to Thad Beeler, minister of music at the First Baptist Church of Carthage and a spokesperson for Joplin Rescue Photos. Because he says there are 24,000 photographs still waiting to be reunited with their owners, "public viewings" are being set up to provide identifying information.
A National Disaster Photo Rescue booth had been set up at the Northpark Mall food court entrance on May 19. They again along with members of Operation Photo Rescue will be present from 10 a.m. to 4 p.m. on May 22, 2012, at the Joplin Public Library, 3rd & Main, as part of the city of Joplin Day of Remembrance.
Significance of memories through photos is theme of documentary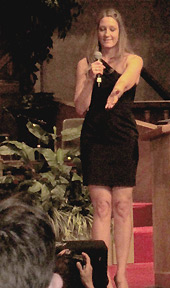 Seneca, Missouri native and Los Angeles film director Erica Tremblay thanks those responsible for assisting her with the production of "HEARTLAND," a documentary that presents a portrait of the adults and children who survived the May 22, 2011 tornado and pays tribute to the lives that were lost.
The audience at Central Christian Church's Fox Theatre was rocked yesterday (May 19, 2012) after viewing HEARTLAND: The Joplin Tornado Documentary. Directed and produced by Erica Tremblay, a former local resident, Bernard Parham and 74 backers, the film, in part using actual video clips made by survivors, chronicles the events immediately leading up to the storm, the ferociousness during it, and the aftermath and loss.
One of the themes repeated in the documentary stresses the importance of preserving photos damaged by the storm. Abi Almandinger, curator of Joplin's Found Photos, describes how she was able to reunite people with their loved ones through restoration of their images that had been damaged by water or recovered after being blown away.
To connect with Joplin's Found Photos, a separate group from Joplin Rescue Photos, go here.