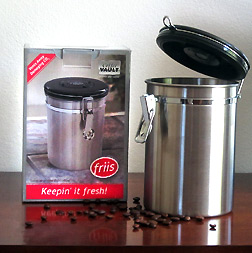 Indulge yourself or that special someone who is difficult to buy something for. You need not buy another cookbook or box of candy for that house gift that you have to buy.
Our gift suggestion is this handsome stainless steel canister, a coffee vault produced by Friis (pronounced "freece") that won the Most Innovative New Product Award by Coffee Talk magazine at Coffee Fest Seattle 2009, a prestigious international specialty coffee trade show. Entrepreneur Keith Emmel of Minnesota is the founder/director of business development at Friis Coffee who brags about this award. We are spilling the beans after having tested his product.
You don't have to be a connoisseur to appreciate a good cup of coffee. And you don't have to drink it only at that high-priced coffee emporium - you know the one.
All forms of coffee, whether whole bean or ground, have been roasted. This process caramelizes the sugars in the beans and forms essential oils. These sugars and essential oils give coffee its varying flavor and aroma profiles. After roasting four external factors break down and destroy the original flavor coffee drinkers love.
The Coffee Vault was invented to solve the problem that leads to a poor tasting cup of Joe and that is improper coffee storage. What makes the Friis Coffee Vault unique is that it was invented to eliminate the four factors that destroy coffee flavor: trapped CO2, light, air and moisture.
A patented Friis Freshness Valve is the key to eliminating trapped CO2 gas. It is constructed with a filter that allows carbon dioxide gas to pass through without allowing oxygen or other gases back in. Purchasers receive a one-year or six-month supply of Freshness Valves with the purchase of the Coffee Vault, depending upon the model purchased.
Dishwasher safe? Nope. Clean it with a damp paper towel and make sure that it is thoroughly dry before storing the coffee. Any moisture in the canister will degrade the coffee flavor.
By the way, storing coffee in the freezer is a popular misconception for preserving coffee freshness, especially if you plan on refreezing it many times, subjecting it to air temperature changes and moisture. It, preferably whole beans, should be ground right before serving and taken from a sealed container like the Coffee Vault that preserves the flavor.
The 16 oz. stainless steel Friis Coffee Vault MSRP is $24.95. Additional Coffee Vault models are available from $17.95.Some models come with an Art of Flavor booklet. Place your order here.