Quinn to promote Joplin at D.C. conference
July 16, 2012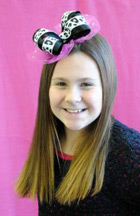 (Photo courtesy of Gera Irwin, Creative Lifetime Memories)
Savana "Quinn" Smith, 11, pictured, the daughter of Kirstie and Brady Smith, will attend the Junior National Young Leaders Conference in Washington D.C. for six days this summer. One of 250 outstanding middle schools students from across the United States, she was nominated by her Columbia Elementary School principal, Lori Musser and teacher, Jamie Lorimer.
Quinn's topic, that satisfies a conference requirement, is "Joplin's Leadership During the EF-5 Tornado." She has prepared a photo collage to tell Joplin's remarkable story to the attendees.
"The aim of the Junior National Young Leaders Conference is to inspire students to recognize their own leadership skills, measure their skills against those of current and former leaders and return home with new confidence in their ability to exercise positive influence within their communities," said Marguerite Regan, Ph.D., Dean of Academic Affairs for the Congressional Youth Leadership Council (CYLC), the organization that sponsors JrNYLC. "Young people are not only welcome in Washington, D.C., they actually keep this city and our country running."
Students will take part in educational activities and presentations and explore relevant sites, such as Harpers Ferry National Historical Park, West Virginia and Washington, D.C.'s museums and memorials. In addition to examining notable U.S. leaders and historic figures, students study the impact of leadership throughout critical periods of American history including the Civil War and Reconstruction, World War II, the Great Depression and the Civil Rights Movement. Upon completion of JrNYLC, students will have gained a greater sense of the role of individuals in American democracy, as well as the responsibilities of being a leader.
In the fall Quinn will enter the sixth grade at Joplin North Middle School. In addition to her school activities, the Joplin native is starting her fifth season as a member of a competitive cheer-leading team. She enjoys tennis, reading and loves to swim.
Quin says she is excited about the opportunity to promote Joplin's recovery and is looking forward to seeing some of the historic sites in Washington D.C.