Joplin Police Blotter: Indecent exposure
August 11, 2012
A white male accosted a young female, exposing himself to her at Third & Byers in Joplin on July 30, 2012, at about 12:30 p.m. The suspect is described as a white male in his 50ís with gray hair and slight facial hair. He was driving a white passenger car, possibly a Ford Taurus with a spoiler on the rear of the car. No license plates were displayed on the vehicle.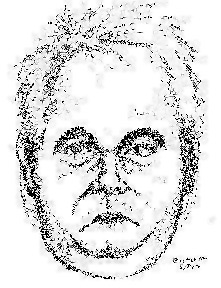 A forensic drawing of the suspect was completed. The best we could duplicate is shown at left.

Anyone with information regarding this occurrence or the suspect involved should be forwarded it to Detective Larry Swinehart of the Joplin Police Department at (417) 623-3131, ext 434 or send an e-mail here.