Andy Williams succumbs to cancer
September 26, 2012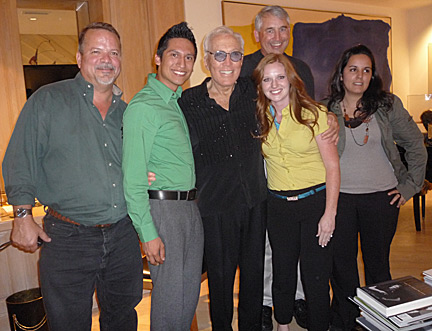 Staff and students in Dr. Scott Cragin's marketing strategy class at Missouri Southern State University-Joplin are shown gathered around Andy Williams while working on a project involving the now late singer's Branson properties. Pictured from L-R are Scott Cragin, Ricardo Cardona, Andy Williams, Stu Dunlop, Jessica Baker and Maria Casas-Cordero.
Singer/crooner Andy Williams, 84, died at home in Branson yesterday (Sept. 25, 2012) after a long battle with bladder cancer. The announcement was made by his publicist, Paul Shefrin.
The tenor began his career when he was 8-years-old, performing at church events in his native Iowa. His success eventually spanned eight decades and included a successful TV show and Christmas specials during the 60s and 70s. He also headlined major clubs like the Copacabana in New York and Caesars Palace in Las Vegas before creating the Moon River Theatre in Branson.
Besides his signature number "Moon River" (from the movie Breakfast at Tiffany's), Williams recorded "Days of Wine and Roses," "Born Free," "The Shadow of Your Smile" (from The Sandpiper), "Charade," the theme from Love Story, and a song from The Godfather known as "Speak Softly Love."
From his office in Washington, DC, Sen. Roy Blunt issued a statement on Williams' passing. "Andy Williams was a great man, a great entertainer, and a great businessman," Blunt said. Having started his career as a young boy singing with his brothers in Iowa, Andy Williams spent his life entertaining countless fans in Branson and around the world. Andy Williams was a great friend, and he will be missed."
Local fond memories of Williams
Faculty, staff and several students at Missouri Southern State University have fond memories of working with entertainer Andy Williams and the Branson Chamber of Commerce, springing from a project in late 2010 in which students from Dr. Scott Cragin's marketing strategy class worked with Williams to address issues with his Moon River Theatre and the Moon River Grill. The project was coordinated by Stu Dunlop, another member of the School of Business Administration, and assisted by his wife Dr. Penny Clayton who heads the accounting program at Drury University in Springfield. She also was a personal financial consultant for Williams for several years.
"He was a very gracious, very kind guy," Cragin remembers." He had been around a long time. He was excited to have the young students working with him and was receptive to what they were trying to tell him."
"The project was important because it was real world" Cragin said. "And we got to work with a celebrity to boot." While at the beginning the students were only vaguely aware of Williams' career accomplishments, Cragin said "they found out who he was and certainly appreciated his career and accomplishments. They were very impressed."
In October of 2010 a larger group from Missouri Southern attended a show at the Moon River Theatre.
"It was a really good show," Dunlop recalled. "To the end, he was a consummate entertainer. His show was very professional. His legacy in Branson is that he had one of the first non-country music-based shows that was really successful there. He was definitely ahead of his time in that respect."
"Working with Andy Williams was an experience of a lifetime," said Ashley (Shaw) Yeary, one of the students involved. "He was an extraordinary man who accomplished so much and really pioneered the way for non-country entertainers in Branson. I was able to learn some great business practices from him that have been helpful in my career."
Jessica Baker, said she was impressed with Williams on a personal level. "He was truly a unique man who could light up a theater with charisma and charm, Baker said.
Cragin said Williams' benefit to Branson, a mutual relationship between the city and himself as an entertainer, can't be underestimated.
"He was a huge draw, particularly for the generation of travelers who come to Branson" Cragin said. "Entertainers like Andy Williams love the lifestyle in Branson. They can do two shows a day, play golf and do very well financially. Andy brought a lot of revenue to the Branson area."
According to MSSU President Dr. Bruce Speck, the Missouri Southern campus joins with the rest of the nation in mourning the entertainer's death.
"He was one of a kind," Speck said. "He was not only a great performer but a great role model for other entertainers and, really, everyone. We're very proud at Missouri Southern to have had an association with Andy Williams."
For an article about the Moon River schedule along with Williams singing "Killing Me Softly," go here.