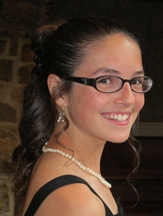 Jasmine Butcher, pictured, Thomas Jefferson Independent School eighth-grader, will be wielding a baton, thanks to being submitted as high bidder at the "Be a Maestro!" contest.
The contest, launched in January to raise money for the Southern Symphony Orchestra under the direction of Dr. Kexi Liu, put the conductor's podium up for auction.
From Carthage, Jasmine Butcher, the daughter of Don & Melinda Butcher, will conduct a short performance of "Toreador" from Bizet's Carmen. The event will take place during the orchestra's April 23, 2013 performance beginning at 7:30 p.m. in Taylor Auditorium on the campus of Missouri Southern State University-Joplin.
Open to the public without admission charge, the performance also will include Rachmaninoff's Rhapsody on a Theme of Paganini for piano and orchestra and Shubert's Symphony No. 1.