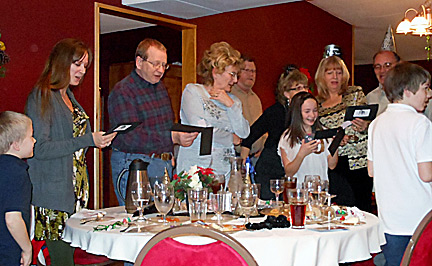 Attendees gather near a dinner table at Stone Throw's 2012 New Year's Eve celebration at the theatre in Carthage.
The 2013-14 season for the Stone's Throw Dinner Theatre has been announced subject to changes. Performances scheduled are:
The schedule of shows for the 2013-14 season is:
June 28-30 & July 5-7, 2013 - Star Spangled Girl, an American romantic comedy by Neil Simon will be directed by Shanti Navarre.
Aug. 15-18 & 22-25, 2013 - They're Playing Our Song, a musical from the book by Neil Simon, will be directed by Bill Welsh.

Auditions from cold readings will be held for Neil Simon's They're Playing Our Song beginning at 6 p.m. on June 9, 10. Participants should have one song prepared; an accompanist will be available. Needed are four men and four women, ages flexible. For more information phone (417) 358-9665.

Oct. 4-6 & 11-13, 2013 - Oliver, a nonmusical version of the book about Oliver Twist by Charles Dickens will be directed by Tom Brown.
Dec. 5-8 & 12-15, 2013 - Christmas Belles will be directed by Mark Sponaugle, Pam White and Betty Bell.
Jan. 31-Feb 1-2 & Feb. 7-9, 2014 - Up the Down Staircase, based upon a best-selling novel by Bel Kaufman, will be directed by Tom Brown and Dee Hubbard.
Mar. 21-23 & 28-30, 2014 - --caution spoiler--Greater Tuna, an expose of the morals and mores of a redneck small town in Texas, will be directed by Kendra & Ray Goepfert.
May 9-11 & 16-18, 2014 - My Three Angels, a charming story based on La Cuisine Des Anges by albert Husson, will be directed by Karl & Shannon Wendt.
The special New Year's Eve show is an audience participation murder mystery called Wedding from Hell by Eileen Moushey. It will be directed locally by Wendy Wolf. Doors open at 9 p.m. $25 per person admission includes hors d'oeuvres and a sparking cider toast at midnight.
Season tickets are now on sale. A pass for five shows of your choice excluding musicals and Christmas shows is $90 until July 1, 2012, $90 after that date. Call the theatre for details at (417) 358-9665.
Reservations may be made for individual performances and are prioritized in the order they are received. Phone the box office, go here for a reservation form or e-mail here the number of guests in your party, the date of the performance and your telephone number for a return call for credit card information. Fees are: adults (19-54), $23; seniors (55 and up) and students (w/ID)/Youth (12-18), $20; children (6-12), $11 and children under 5, free. There's a $2 surcharge for musicals.
The theatre is located at 2466 W. Old Route 66 Blvd. (formerly 796 S. Stone La.) in Carthage on historic Missouri Route 66. The non-for-profit 501 (c)(3) corporation is run by volunteers with all contributions tax deductible. The Stone's Throw Theatre Henri Heckert Endowment Fund is managed by the Carthage Community Foundation and the Community Foundation of the Ozarks with income only used for expenses and capital improvements. Anyone making a donation of $1000.00 or more is eligible for recognition on a plaque in the theatre lobby.
Extra fund-raising efforts include the collection of empty print cartridges for recycling. Bring items to the theatre.
Sponsorships for any show are available to help underwrite part of the production costs. In addition, consider program advertising. The cost is $75, full page; $95, half page; $65, third page and $25, business card size per show. Seasonal pricing or underwriting an entire show with inside cover advertising also are available.
The theatre is available to rent for day or night events on on-show dates. Seating is available for up to 90 people. Meals may be arranged. Call the box office for more information.
Theatre's history
From Mrs. Harry Spradling's initial formation of the 1928 Carthage Music Club performing musical shows in schools, churches and other locations, in the 1970s the scope of the entertainment was broadened to include theatrical productions as part of the Missouri Federation of Music Clubs. This newly formed Carthage Music and Theatre Club on September 11, 1984 was incorporated as the Community Theatre for Southwest Missouri Inc., otherwise known as the Stone's Throw Dinner Theatre. Four years later Dr. Foster and Hilda Whitten donated the land on which the current theatre stands and money was raised towards construction of a theatre building.