Justice for military rape victims intensifies
June 06, 2013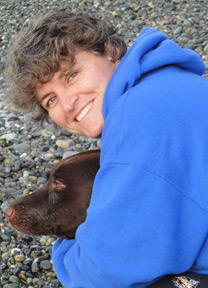 Trina McDonald cuddles service dog Shea.
To the editor:
I traveled to Washington, D.C., for the first time in my life to carry my message of removing prosecutions of military sexual assaults from the military chain of command, with the support of more than 215,000 MoveOn members and supporters from the Courage Campaign. I started my MoveOn petition campaign more six weeks ago, and it was time to get answers from Congress.
I survived multiple sexual assaults while I served in the U.S. Navy in Alaska. Some of the people who attacked me were my commanding officers, making it nearly impossible for me to report the crimes without fear of them hurting me again, or worse.
The media were interested in my story, and they started interviewing me at 6:20 a.m.!1 But my first meeting was at the office of Senator Mitch McConnell, my senator. Sen. McConnell isn't on the record supporting my cause, and he didn't accept my request for a meeting last week while he was in Kentucky for the Senate's Memorial Day recess. But at 9 a.m. on Tuesday, I went to his D.C. office.
I was nervous—they made me wait for 20 minutes—but then they apologized and his staff person told me something that no one had ever heard before: Sen. McConnell had heard my story, seen my campaign, and supports removing military sexual assault prosecutions from the chain of command. That's a huge deal.
I then met with Representative Jackie Speier, Senator Kirsten Gillibrand, and Senator Lisa Murkowski's staff, all of whom agreed that we need to change how we prosecute these crimes in the military. I met with Sen. Gillibrand right after she finished grilling the leaders of the military at a Senate Armed Services Committee hearing on sexual assault about how they've "lost the trust of the men and women who rely on you, that you will actually bring justice in these cases."2
I left Sen. Gillibrand to do an interview with ABC News about my experience delivering my petitions and my opinions on the hearing that was happening right behind me. As I spoke, I turned and saw the chair of the Joint Chiefs of Staff and other military leaders—who had just got finished defending the status quo that enables thousands of military sexual assaults every year—fill the hallways and stand close enough to hear my story and my call for change. They didn't speak to me, but they could no longer keep me quiet either.
I had to catch my breath after that, before dashing off to do a video interview with the Washington Post and grab lunch. I finished the day with a final Hill meeting with Representative Niki Tsongas, who's also fighting hard to change the system.
My last stop of the day was a CNN appearance with Jake Tapper, which I almost missed because of crazy D.C. traffic.5 But I made it, and Jake asked me to tell my story on live television to his viewers, and then he promised to personally help me and other survivors get justice.
I'm back home now and trying to get some rest after my 48-hour whirlwind trip. But I left Washington energized to keep fighting for justice. I need your help to get every U.S. senator to co-sponsor legislation to remove military sexual assault prosecutions from the chain of command.
Please have your readers call Senators Claire McCaskill at either (202) 224-5154/(417) 868-8745 or leave a message here and Roy Blunt at either (202) 224-5721/(417) 877-7814 or leave a message here right now and get them on board.
Trina McDonald,

Central City, Kentucky
McDonald is a U.S. Navy Gulf War veteran.