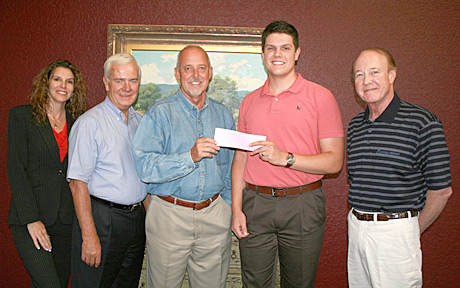 Ben Hampton, Bank of Grove loan officer, presents a sponsorship check to Greg Martin, INTEGRIS Grove Hospital administrator. (L-R) are: Kristi Wallace, Taste of Grand chairperson; Gary Smith, Bank of Grove president; Martin; Hampton; and Ed Townsend, Bank of Grove owner and CEO.
The Taste of Grand, which showcases an excellent selection of wine and spirits with a delicious array of area cuisine, will be held Saturday, Oct. 5, 2013, at 7 p.m. at 900 E. 13th St. in Grove, OK. Tickets are $80 and may be purchased by calling (918) 399-4392. All proceeds go to the INTEGRIS Grove Hospital Foundation, a nonprofit organization that funds continuing advancements in local health care and medical treatments for those in need.
Bank of Grove will again be the event's major event sponsor, according to an announcement by the Taste of Grand committee. Bank of Grove has generously sponsored the event the past nine years, in turn helping raise nearly $400,000 for the INTEGRIS Grove Hospital Foundation.
"We are extremely grateful for Bank of Grove's continued generosity toward the Foundation," said Kristi Wallace, event chairperson. "Their support has allowed us to help countless people through the Hospital Foundation these last nine years.
"Ed Townsend, Bank of Grove owner and CEO, has been an integral part of INTEGRIS Grove and its Foundation; he and his wife Barbara donated $1 million to help build the new hospital, created the Townsend Children's Fund, which provides medical and dental care for needy children in Delaware County, and were the first $1 million donors to the INTEGRIS Rural Health Foundation. Townsend is also a former president of the INTEGRIS Health Board of Directors in Oklahoma City.
"Through sponsoring this event, we can make a friend's life easier and potentially even save their life," Townsend said. "It warms my heart to help our neighbors in need."