Republicans push for HB 253 veto override
August 10, 2013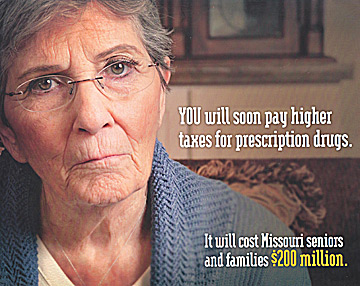 The Republican-run Missouri General Assembly may be attempting in September to pass House Bill 253 over Gov. Jay Nixon's recent veto. The proposed "tax-cut" bill included add-ons like making prescription drugs subject to local sales taxes, bringing in an estimated $200 million annually.
Nixon, who spoke last month at Lawrence Drug in Springfield called the Republicans' first attempt at passing the bill "unfortunate." He labeled their persistence "inexcusable."
In an appeal to Missouri seniors who with other prescription drug-takers could be faced with paying a new tax of up to 10 percent, Missourians for Common Sense, a newly formed Columbia, Missouri-based organization whose membership remains anonymous, paid for the mailing of a brochure urging everyone to contact their state representatives to oppose the legislative override.
According to Missouri House Speaker Tim Jones (R-Eureka), he needs the support of all 109 Republicans in the House to override the governor. That includes a few Republicans who voted against it.
Groups like the National Federation of Independent Businesses, Associated Industries of Missouri, the Missouri Chamber of Commerce and the pro-tax reform Club for Growth have formed a coalition to encourage lawmakers to override Nixon's veto during September's special session. The Club for Growth PAC received a recent contribution of $1.3 million and not the first representing wealthy donors from retired investment broker Rex Sinquefield, a native of St.Louis.