Pastor Bob Heath is honored
August 30, 2013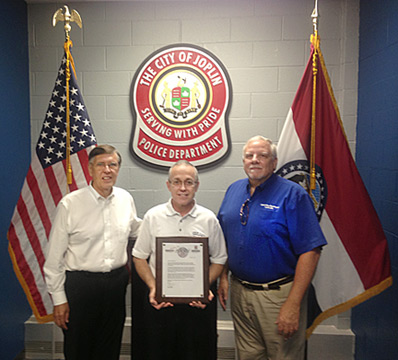 Four chaplains assist the Joplin Police Department. (L-R) Tim Sumners, pastor of Eastvue Baptist Church in Joplin and David Schepper, former pastor of N. Joplin Christian Church flank Bob Heath (center) who recently received a commendation from the Joplin Police Department. Missing from the photo is Gene Hutchcraft who is associated with the World of Truth Fellowship in Joplin.
Bob Heath, a chaplain with the Joplin Police Department was presented with a certificate of accomplishment by Chief Lane Roberts yesterday (Aug. 29, 2013).
Heath was cited by the International Conference of Police Chaplains for having completed 500 hours of professional studies and 15 years of service.
"We are very proud of his accomplishment," said Lt. Matt Stewart, who also wanted to thank all the chaplains for their dedicated service.
Heath, a graduate of Ozark Christian College, came to Joplin from Middleburg, Ohio. He was a part of the team of chaplains in 2011 faced with having to assist in notifying families that their loved ones had been identified as among the dead, resulting from the devastating tornado in Joplin in May of that year. He himself survived the storm by hunkering down in the basement of the Villa Heights Christian Church where he has been the children's minister since 2009.