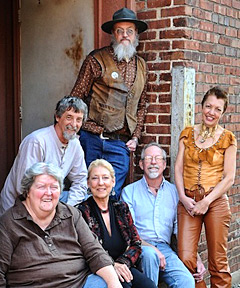 The Blackberry Winter Band, pictured, a group of hillbilly musicians that were featured in the Golden Globe winning film, Winter's Bone, will open up music performances at the MARC, 822 W. Mt. Vernon Blvd., Mt. Vernon. Curtain is at 7 p.m. on Friday, Nov. 1, 2013.

Lead singer, Marideth Sisco began her singing career in 1946 at age 3 standing on an ice cream freezer at an auction. A music major at Southwest Missouri State College (now Missouri State University), she left school to seek her fame and fortune while traveling west. From once being told locally that as a woman she wouldn't make a living in performance, composition or orchestration, she has an opportunity to meet and sing with Judy Collins, Eric Anderson and Joy of Cooking and Rambling Jack Elliott. When a car accident leaves her with nerve damage to her left hand and increasing inability to play an instrument, Sisco switches career paths, becoming a journalist, and after a 20-year career in 2005 is forced to retire after heart surgery...until she is asked by producer Debra Granik to assemble musicians to play the sound tract for Winter's Bone.

The award-winning band she formed--they stacked up a Golden Glove and four Oscar nominations--include Bo Brown on mandolin and dobro, Van Colbert on banjo, vocalist Linda Stoffel, Tedi May on bass and Dennis Crider on guitar.

The repertoire of the band includes authentic music from the Ozark Hills. Their performances are described as including a mix of original and traditional tunes featuring "honey-sweet harmonies sprinkled with tasty pickin'.

Admission per person is $8 in advance, $10 at the door. For tickets phone (417) 413-0716 or purchase them at KeenBean, the Mt. Vernon Chamber of Commerce, the Mt. Vernon City Hall or the Lawrence County Record.

The MARC (Mt. Vernon Arts and Recreation Center), a new venue owned by the city, features many theatre productions from youth theatre to community theatre. The Mt. Vernon Regional Arts recently renovated a 53,000 square foot church sanctuary into a performance stage theatre and gallery.

For samples of Blackberry Winter go here.