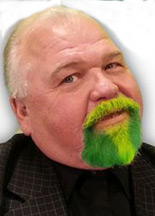 Do you want to see local television personality Hank Rotten Jr. paint his goatee green? On October 24, 2013, Alan Marble, MSSU interim president, contributed the first $50 to see this happen.
The Missouri Southern Foundation is encouring donations to the Hank Rotten Jr. Goatee Challenge. The goal is to raise $500 for scholarships by Halloween. If the goal is met, Rotten will sport green whiskers on November 1, 2013, during the KSN Morning Show.
To make a donation go here and earmark the money for the Rotten challenge. Donations also may be submitted by calling (417) 625-9396 or stopping by the foundation office in Hearnes Hall on campus.