Ike Skelton dies after brief illness
October 29, 2013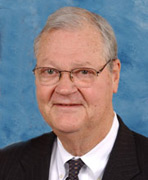 Ike Skelton, pictured, a Democratic congressman from Missouri who was ousted in 2010 by Tea Partyer Vicky Hartzler after serving his district for more than 30 years, died on Monday, Oct. 28, 2013, in an Arlington, Virginia hospital after a sudden illness. He was 81.
"It was a great privilege to serve Missouri in the Congress with Ike Skelton and to benefit from his friendship and advice," Missouri Sen. Roy Blunt said in a prepared statement. ""No member of the Congress was more dedicated to America's defense and those who defend us than Ike Skelton. He loved our country and its history and will be remembered for his contributions to both."
Skelton served as chairman of the House Armed Services Committee for several years. He supported two local military institutions, Fort Leonard Wood and Whiteman Air Force Base. A social conservative, Skelton favored gun rights, opposed abortion rights and voted against President Obama's healthcare law.
Skelton formerly was a member of the Missouri Senate from 1971-77, representing Lafayette County. After losing his Congressional seat Skelton became a partner at Husch Blackwell, working in its Missouri and Washington offices.
He is survived by his second wife, Patricia Martin and three sons.