Suspect apprehended in shooting outside theater
November 02, 2013
UPDATE: The Jasper County Prosecutorís Office has filed charges against the suspect, Jeffery L. Bruner. Warrants were issued for Class A Felony Murder and Armed Criminal Action. Bond was denied.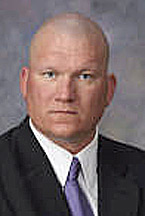 Derek Moore, 37, pictured, first year assistant coach at Missouri Southern State University in Joplin, was shot outside the Regal Northstar Stadium 14 cinema in Joplin just before 10 p.m. on November 1, 2013. He was pronounced dead after being taken to a local hospital.
Prior to joining the MSSU staff, Moore assisted the head coach at Western Illinois University, helping to create a winning record.
He leaves a son, Elijah, 7.
Suspect taken into custody almost immediately

An officer with the Duquesne Police Department was on scene. Suspect, Jeffery L. Bruner, 39, of Joplin, pictured at right, was taken into custody almost immediately after the shooting and is now at the Joplin City Jail awaiting formal charges of murder.