PhotoSpiva 2014 calls for entries
December 07, 2013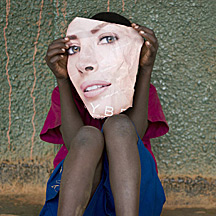 This digital image, "Maybelline Model" was part of a group of work by Gloria Feinstein of Kansas City, Missouri that took first place honors in the 2013 competition. Other winning entries appear here.
A call for entries has gone out for the 38th annual photography competition, PhotoSpiva 2014. Hosted annually by the Spiva Center for the Arts in Joplin, Missouri, the competition is open to all U.S. photographers, amateur or professional. This year's juror is Domith Doherty, professor of photography at the University of North Texas-Denton.
Submitted images must be the photographer's own work. It is the responsibility of the photographer to obtain written release from any person visible in the photograph. Two dimensional work may be submitted derived from any photographic process--traditional, digital or photo-based mixed media and must never have been exhibited at Spiva.
The minimum fee is $40 for five photo submissions; $10 for each extra photo. Images need to be JPEG formatted in RGB color with the width or height about 1600 pixels, maintaining the aspect ratio. Images displayed in Spiva's gallery for judging will be selected from those submitted online.
To enter the contest go here. The deadline for entries is January 5, 2014 at 11:59 p.m (CST).