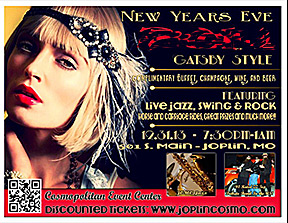 A red carpet, 13-foot gold statues, the region's best light show and live music will greet guests at the Great Gatsby-themed New Year's Eve Party, December 31, 2013, in Joplin. The event for the 21-plus crowd will take place at the 6,000-capacity venue known as the Cosmopolitan Event Center, 501 S. Main St., a building from 1917 that has seen many tenants through the years.
"Whether people want to dress up or not- or whether they drink or not- they will love this party," event planner Kerrie Englund said. "You don't have to wear a 20s gangster suit or a flapper dress, yet many will."
The party begins at 7:30 p.m. and will include complimentary hors d'oeuvres, Roaring 20s themed drinks at a cash bar, and prizes and games all evening long. There will be a surprise every 30 minutes, including confetti canons, a balloon drop, 1920s dance lessons, casino, indoor snow and a rumored flash mob dance.
Five musical acts will perform live. Lead acts include swing music by Jomo Jazz and VH1's fan favorite zz Top tribute band, Sharp Dressed Man, that will emerge from a time machine situated in the 1980s bringing them back to the 1920s. Additional music will be provided by Sinatra-style crooner Dean Valaasco, jazz standards singer Kelly Muzick and Roaring 20s pianist Martin Williams.
"Most people don't think about New Year's Eve until only a couple days before because of all the Christmas shopping and family events. However, we have sold more tickets before Christmas than we expected to sell overall," said Mark Williams, owner of the center. "We are excited people are responding to this venue and this themed event."
Advanced tickets are $79 for one, $150 per couple or $275 for a foursome. They may be purchased online here. Include a carriage ride with your purchase for an additional $7. Tickets purchased at the door are $100 apiece.