Join arts promoter in Jefferson City on Feb. 5th
January 28, 2014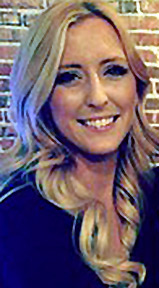 Meg Bourne-Hulsey, pictured, founder in 2009 and current executive director of the Joplin-based Art Feeds, is being honored at the Missouri Arts Council's annual arts awards ceremony. Presentation to her of the 2013 Arts Education Award will take place on Wednesday, Feb. 5, 2014, during Citizens' Day for the Arts at the Capitol in Jefferson City.
A Missouri Southern State University graduate, Bourne-Hulsey has garnered several awards including recognition from DoSomething.org as a $10,000 award finalist and a pivotal "do-er" in 2012. In the same year she was a Chase Community Giving Grant recipient. She represented 1 of 25 causes honored at NBC's 2012 American Giving Awards, was featured in Forbes magazine as an "Innovative Social Entreprenuer," and was recognized in the Huffington Post, teen VOGUE and The New York Times. As an intern she contributed to the staff of TOMS Shoes.
Bourne-Hulsey's award is one of six categories that also include arts organization, creative community (Joplin received this award in 2012), individual artist, leadership in the arts and philanthropy.
"Those receiving the awards have made profound and lasting contributions to the cultural and artistic landscape of Missouri," said Emily Frankoski, director of Connect2Culture.
Missouri citizens are encouraged to attend the event at the state Capitol. "Attendance demonstrates the extent and support for the arts in Joplin and Missouri, Frankoski said. The day features advocacy training, legislative visits and performances in addition to the awards ceremony.
A bus will be picking up passengers at Freeman East, 932 E. 34th St. (far south parking lot) from 6:30-7 a.m. and will be arriving in Jefferson City at 11 a.m. in time for a tour of the Capitol before the start of a complimentary lunch provided by Connect2Culture outside of Senator Ron Richard's office. At 1 p.m. passengers are encouraged to visit with legislators, then attend the awards ceremony at 2 p.m. The bus will depart at 4 p.m., stop off at the Steak and Shake Restaurant in Lebanon before resuming the trip and arriving back at the pick-up location at 8:30 p.m.
For those unable to attend the Jeff City event, a special award celebration will take place from 5-7 p.m. on January 30, 2014, at Wilder's Restaurant, 1216 S. Main St., Joplin. Cash bar will be available; appetizers will be provided. Attire is business casual.
To sign up for the bus go here.