Joplin Little Theatre stages Agatha Christie play
January 29, 2014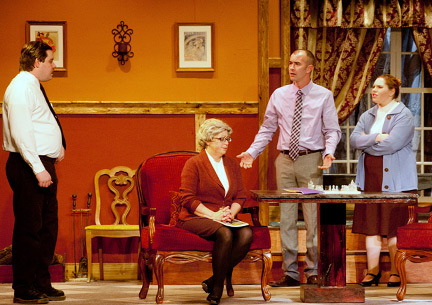 At left, Detective Sergeant Trotter "(Zach Bradley) confronts the Ralstons (Andrew Girouard and Kelsey Hale), owners of a boarding house where people like cranky Mrs. Boyle (Kelly Purser), seated, gather after a murder has taken place in the Joplin Little Theatre's new production of Agatha Christie's The Mousetrap. (Photo by Vince Rosati)
Joplin Little Theatre is hoping their next theatrical performance, a melodrama that originated in London in 1952 will play to a packed house like it still is doing where it was born. Its first appearance on the JLT stage, Agatha Christie's The Mousetrap has been declared the classic stage play of all time. It is the longest running show of any kind in the world currently celebrating its 62nd year at the St. Martin's Theatre in London (first 21 years at the Ambassador Theatre).
The plot involves a group of strangers stranded in a boarding house during a snowstorm. One of them apparently is the murderer of a woman who dies in sound only on a dark stage. The suspects include the newly married couple who run the house, the Ralstons; a spinster with a curious background; an architect better equipped to be a chef, a retired Army major who obviously knows how to use a gun; a strange man who joins them with the claim that his car has overturned in a snowdrift and a jurist who simply makes life miserable for everyone and who too winds up dead.
Joining this motley group on skis is a police detective whose penetrating questions rattle a lot of skeletons. Then comes the famous Agatha Christie switch finish that audiences are asked not to reveal to those yet to see the play. However, it is an ending with which many modern American audiences find fault.
Directed by Kevin Babbitt, the play includes a cast of eight. They are: Kelsey Hale (Mollie Ralston), Andrew Girouard (Giles Ralston), Jason Leggett (Christopher Wren), Kelly Purser (Mrs. Boyle), Richard H. Roberts (Major Metcalf), Sara Leggett (Miss Casewell), Richardo Fields (Mr. Paravicini) and Zach Bradley (Detective Sergeant Trotter).
The play basically takes place in one room of the Ralston's rooming house. In addition to the fine acting, what especially must be commended is the set JLT has created that allows characters to come and go as the story line is revealed.
Curtain time is Wednesday through Saturday, Jan. 29-Feb. 1, 2014, at 7:30 p.m. and Sunday, Feb. 2, 2014 at 2:30 p.m.
To make a reservation phone the box office at (417) 623-3638. Ticket prices are $13 for adults and $11 for seniors and students. The Joplin Little Theatre is located at 3009 W. 1st St., Joplin (west of Schifferdecker Road).