Meet Democratic candidate Jim Evans
February 05, 2014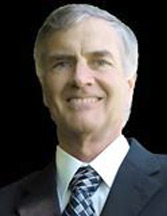 A meet and greet for 7th Congressional district candidate Jim Evans, pictured, of rural Republic will take place from 6-8 p.m. on Thursday, Feb. 20, 2014, at Ye Olde English Inn, 24 Downing St., Hollister.
An army veteran, Evans completed a master's in math at Missouri State University (formerly SMSU) and began a teaching career at Logan Rogersville Junior High, spending summers farming and restoring old houses. Before retiring in 2000, he helped introduce the A+ schools program at Springfield's Central and Glendale high schools and the International Baccalaureate program at Central. While retired he first dabbled in network administration. Then politics again grabbed his attention.
"I noticed the toxic effect of special-interest 'divide and conquer' politics on our fundamental American principles of unity and saw our country being torn apart," Evans writes on his Facebook page."If we embrace our founding principles that with unity we can secure liberty and create prosperity, we can compel our representatives to stop chasing money, and get back to the business of fixing government, expanding freedom, and promoting a strong middle-class economy." An environmentalist, Evans has often been a critic of Republican incumbent Billy Long whom he believes "chases big oil money."
"My mission is to build a community dedicated to identifying commonsense solutions for the social and economic problems of our society...guided by the principles of justice, stewardship, inclusion, and responsibility, Evans says.
Evans support is coming from the Greene County Democratic Central Committee and Southwest Missouri Democrats. Evans ran unopposed as the Democratic candidate in the August 2012 primary and lost to Long in the general election. Long was successful in seeking a second term.
The 7th district includes the counties of Polk, Greene, Jasper, Newton, McDonald, Lawrence, Stone, Christian, Taney and Webster. The general election will take place on Tuesday, Nov. 4, 2014.