Judging to open PhotoSpiva 2014
March 05, 2014
Joplin - Spiva Center for the Art's national claim to fame, PhotoSpiva, will open this weekend with an exhibition of 82 images selected from 1,014 that were entered in the competitive by 176 photographers.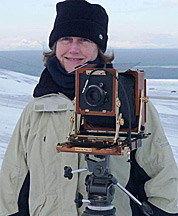 The 38th annual PhotoSpiva exhibition will open on Saturday, Mar. 8, and will run through May 4, 2014. Prior to an awards presentation at 7 p.m., Friday, Mar. 14, followed by the annual Juror's Lecture, Dornith Doherty, professor of photography at the University of North Texas-Denton, pictured, will judge the pre-selected photos hung in Spiva's gallery, awarding those chosen a share of $2,000 in prizes.
Doherty's lecture at Spiva will focus on her 2008 photographic project, "Archiving Eden," in which she worked with renowned biologists who are doing seed banking around the world. She received a John Simon Guggenheim Fellowship in 2012 to support "Archiving Eden," which explores the increasingly complex relationship between human agency and the natural environment.
Doherty has exhibited around the world. She holds degrees from Rice and Yale universities and in addition to holding a Guggenheim Fellowship, she has received grants from the Fulbright Foundation, the Japan Foundation, the U.S. Department of Interior, and the Society for Contemporary Photography.
One-on-one portfolio reviews by Doherty also will be conducted from 10 a.m.-3 p.m. on Friday, The 15-minute reviews are an opportunity for student, amateur and professional photographers to improve their skills through a one-on-one professional critique.
"The portfolio review is a wonderful opportunity for photographers," Spiva Director Jo Mueller said. "Entering PhotoSpiva isn't even a requirement. Doherty's background – years as a teacher and an international speaker for prestigious photography forums – make this experience invaluable, whether you're already accomplished or just starting out."
The charge for scheduling a review is $15 for students and Spiva members and $25 for others. Student scholarships are available. Reservations are required. To register, contact Spiva at (417) 623-0183.
There will also be a reception and awards ceremony for participants in an accompanying event, PhotoSpiva Kids. It is set for 2 p.m. Sunday, Mar. 9, after being cancelled because of weather.
PhotoSpiva is sponsored by Freeman Health System with additional financial support from the Joplin Convention and Visitors Bureau, the Freeman R. Johnson Trust, and the Missouri Arts Council, a state agency. PhotoSpiva Kids and Tweens are sponsored by Corner Greer & Associates, Architects.
The Spiva Center is located at 3rd and Wall in Joplin. Hours are: Tuesdays–Saturdays, 10 a.m.-5 p.m and Sundays, 1-5 p.m.; closed Mondays and major holidays.