Back by popular demand: Maple Leaf Bicycle Tour
March 07, 2014
The Maple Leaf Bicycle Tour, a 15, 40, 62, 80 or 100-mile ride, will take place on May 17, 2014. The starting point is at Kellogg Lake In Carthage (Take US71/I49 to Central Avenue exit, go east for 2 miles ).
Pick up an early packet at Bicycle Specialist, 1202 S. Range Line Rd., Joplin on the 16th. Registration on the day of the ride is at 6:30 a.m., the ride starts at 7:30 a.m. Rest stops close and SAG support ends at 4 p.m. Severe weather cancels.
Registration fees of $20 for the 15-mile ride and $35 for all others made before April 30, 2014, are a donation to the Joplin Trails Coalition and are not subject to refund. The fee increases $5 after that date. To pre-register go here. Early registration guarantees a t-shirt.
Upcoming ride announced
The Route 66 Mother Road Bicycle Tour, the only century ride in America to go through three states on Historic Route 66, will take place beginning at 8 a.m. on October 11, 2014, at the Joplin Athletic Complex, 3301 West First St. in Joplin. The pre-registration entrance fee until September 30, 2014, for this 12-mile run, is $20 USD. To register via PayPal go here. Proceeds will be used to build a trail system in the Southwest Missouri area
Enjoy the local trails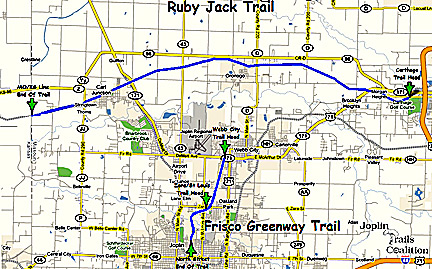 The Ruby Jack Trail and the Frisco Greenway Trail are maintained by the Joplin Trails Coalition. Volunteers of all ages, sexes, and educational levels who are wanting to fulfill a sense of social responsibility as well as develop new skills are encouraged to become members.
Information about bike rides, making donations or membership for the Joplin Trails Coalition may be obtained by sending an e-mail here.
For a ride down the Ruby Jack Trail, from Oronogo to Carl Junction, a video by Bud Anderson with music by Steve Forbert, click below: