Bank robber is caught on camera
March 19, 2014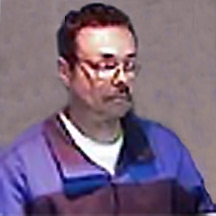 This man, described as a Latino approximately 5'7" and of medium build in his mid to late 40s, is wanted by the Joplin Police Department as a suspect in the robbery of the Arvest Bank at 3291 McClelland Blvd. He had dark hair and a mustache and was wearing a blue over black jacket, dark colored pants and sneakers with white soles.
The robbery took place on March 17, 2014 just before 11 a.m. The suspect left on foot in an unknown direction with a yet undetermined amount of cash.
Investigators with the Joplin Police Department, along with the FBI processed the scene and interviewed witnesses. Anyone with information regarding the identity of this suspect should contact Lt. Charla Geller at the department at (417) 623-3131, Ext. 465.