Fun event is scheduled for animal lovers
March 23, 2014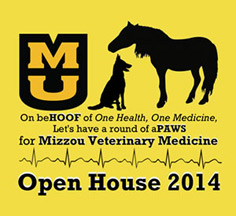 An annual open house will take place at the College of Veterinary Medicine of the University of Missouri in Columbia from 9 a.m to 2 p.m. on Saturday, Apr. 12, 2014. Meant to encourage selection of veterinary medicine as a profession, the event also educates the public about animal and public health and exploration of the human-animal bond.
Featured entertainment includes the Purina Incredible Dogs, a petting zoo, mule rides and face painting. Tours of the Veterinary Medical Teaching Hospital and veterinary medicine displays also will be provided that include exotic animals as well as bunnies. Representatives will provide information about horses, raptor rehabilitation, oncology, small ruminants and other topics dealing with pets.
Those interested in more information about the veterinary program should contact Doug Tindall, coordinator of student recruitment by sending an e-mail here.
A map of the location of the veterinary buildings on the campus of the University of Missouri may be found here.