Reconstructed church is award-winning project
June 08, 2014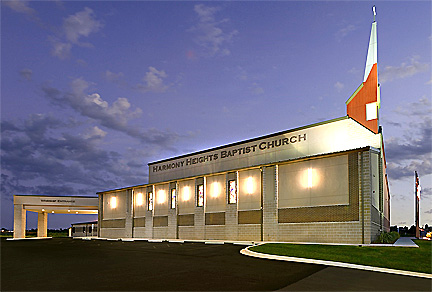 The general contractor for the reconstruction of Harmony Heights Baptist Church on 20th Street, pictured, destroyed by the Joplin tornado in 2011, has won an award for this project. Branco Enterprises, Inc. of Neosho accepted the award for Project of the Year by a General Contractor (under $5 million) after being singled out from three finalists. The award was presented at the Associated General Contractors of America Awards Banquet in Kansas City, Missouri.
"This honor is shared not only by Branco Enterprises, but by Harmony Heights Baptist Church, and the city of Joplin," said Brennan Robinson, a spokesperson for Branco. "It was a very special project and deserved recognition. Nominations for this award were projects which displayed innovation, a complexity or uniqueness of construction, outstanding jobsite safety and project cooperation, and of course, superior quality."
Branco will be presenting a plaque to Harmony Heights church, as well as the architect of the project, Jack Ball Architects. The Harmony Heights project was completed in December 2012 and the contract value was approximately $2.8 Million.