Joplin Little Theatre announces 2014-15 season
June 08, 2014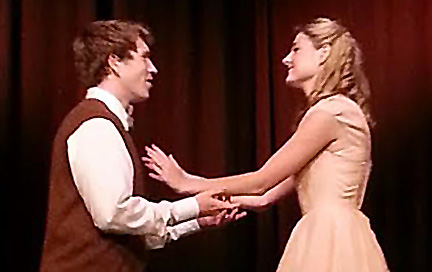 Forrest Bunter (Tony) and Lindsey Daniels (Polly) perform a number from the upcoming show, The Boy Friend. They sang I could Be Happy with You during the second half of the Encore Awards ceremony at the Joplin Little Theatre on June 7, 2014.
Theatre buffs are encouraged to support the Joplin Little Theatre, the oldest continuously running community theatre west of the Mississippi as it enters its special 75th anniversary season. Tony Flint, JLT president, promises that they will be trying new things in the celebratory season.
The JLT's 2014-2015 season includes:
Sept. 24-28, 2014 - JLT in Concert celebrates the community theatre's 75th anniversary and presents highlights from some of the most popular musicals produced. Producers are Billy Perry assisted by Carolyn McGowan, musical director and arranger is Cecie Fritz and choreographers are Angela Lowe and Heather Briley. Shawn Irish will design the sets and lighting. Auditions for singers and dancers are from 7-9 p.m. on July 7 & 8, 2:30-4:30 p.m. on July 12 & 13.
Dec. 10-14, 2014 - A Christmas Story
Jan. 28-Feb. 1, 2015 - Eleemosynary, a 1955 multi-act play by Lee Blessing, follows the uncommunicative relationships between three generations of women.
Mar. 25-29, 2015 - The Fantasticks, a 1960 musical with music by Harvey Schmidt and lyrics by Tom Jones, tells an allegorical coming of age story about two neighboring fathers who trick their children into falling in love by ending a supposed feud between them and the ramifications of having their deception discovered.
May 27-31, 2015 - Bertha the Beautiful Typewriter Girl, a hilarious melodrama by Charles George about desperate Daniel Desmond and his vile attempts to betray beautiful Bertha, the telephone girl, has been scheduled because it was the first show JLT performed.
Also scheduled but not part of subscriptions for the regular season are:
July 30-Aug. 3, 2014 - The Boy Friend, by Sandy Wilson is the romantic spoof of 1920s musical comedies and a tale of mistaken identity and it tells the story of an English heiress (Polly) who in seeking a boyfriend like messenger boy Tony and who has to contend with her father's desire that any potential suitors be rich. A catchy score, dance numbers, comedy and mix-ups will be directed by Carolyn McGowan.
Sept. 20, 2014 - The Angel Guild Gala
Oct. 23-25, 2014 - The Rocky Horror Show
Season tickets are now on sale and may be purchased up to the opening night of the first show; subscribers must select a night to attend each performance although tickets may be exchanged in person for another night of the same show. Tickets are non-refundable. The cost of an adult ticket for the season is $65; student and senior citizen, $55; and patron, $75 (with recognition in each playbill). The cost of a life membership is $1,500 per person and may be paid in three consecutive yearly installments of $500. Subscriptions may now be ordered through an online ticketing service. For questions about ticketing send an e-mail here. Individual tickets for musicals are $15 for adults, $13 for students/seniors and $6 for children younger than 12. Tickets for non-musicals are $13 for adults, $11 for students/seniors and $5 for children younger than 12.
Flex tickets, coupons that may be exchanged for a ticket at any time, are sold any time in blocks of five for $65. They make good gifts. They must be exchanged in person for regular tickets. A lifetime membership may be purchased for $1500 and entitles the holder to two tickets for each performance and recognition in the playbill.
Advertise in playbill
Various-sized advertisements may be placed for the 2013-14 season. The running ads will be inserted in playbills that are distributed at each performance. For more details call the theatre at (417) 623-3638 or send an e-mail here.
Two homes for JLT
A group of thespians during the 1930s staged plays at the high school in Joplin, the Paramount Theatre, the Scottish Rite Temple, or anywhere else with space for a stage. The Joplin Little Theatre was incorporated in 1939. Park Playhouse, whose structure originally was an old riding academy, was purchased in November 1946 from investments in victory bonds and a gift from George A. Spiva. On 20 lots just north of Schifferdecker Park, the playhouse has been renovated to what it is today.
Adding to the pot
For a $250 donation a plaque will be attached to the back of an available seat of your choice with the money raised going toward the purchase of new auditorium seating. At that time all the name plaques will be moved to the new seats.
Sponsor an evening at the theatre for whatever reason is a relatively new way to assist the theatre. Recognition will be given for the donation in the playbill as well as receiving a number of tickets for the performance.
In addition, gift certificates are available for purchase as well as having inscribed a tile for the lobby floor for a $1,000 donation. Phone the box office for details.
Of course, besides new faces for tryouts, volunteers are always needed as set builders, painters, scenic and lighting designers, costumers and backstage crews.
The Joplin Little Theatre is located at 3009 W. First St., west of Schifferdecker Avenue. Phone (417) 623-3638.