Historical tale is next Literary Lions selection
June 10, 2014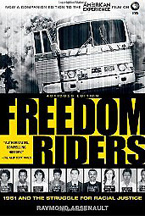 The book, Freedom Riders: 1961 and the Struggle for Racial Justice by Raymond Arsenault is the next title to be read by the Missouri Southern State University's Literary Lions Book Club. The moderator is Dr. Steven Wagner, professor of history.
Known as a "tale of heroic sacrifice and unexpected triumph," the new version that is significantly condensed tells the saga of the Freedom Rides that redefined the limits of dissent and set the stage for the civil rights movement. Discussions about the book will take place near the University Java coffee shop in MSSU's Spiva Library.
The summer 2014 event will be held beginning at 10 a.m. on Thursdays in July on these dates:
10 - Introduction and background
23 - Group discussion
30 - Group discussion and viewing of film
The cost is a $25 donation, $15 for members of Friends of the Spiva Library. For more information or to RSVP, contact the alumni office at (417) 625-9355 by June 23, 2014.