Democrats honor recent Joplin High graduate
June 10, 2014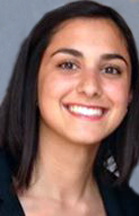 Laela Zaidi, pictured, was awarded Missouri's Young Democrat of the Year. The presentation by Doug Brooks, chairman of the 32nd Democratic Senatorial District, took place at the Jefferson Jackson Dinner in St. Louis on June 7, 2014.
A recent graduate with honors from Joplin High School, Zaidi was the president and co-founder of the school's Young Democrats. Very active statewide for Democrats, in 2012 she interned for the Missouri Democratic Coordinated Campaign which reelected U.S. Senator Claire McCaskill, in 2013 she was a paid intern for Charles Drake (D-157) and in 2014 she was the co-campaign manager for Friends to Elect Dr. Debbie Fort.
While a student at Joplin High Zaidi earned the distinction of being ninth in the nation for Congressional debate. She was a member of the National Honor Society, Key Club and Future Business Leaders of America, was captain of the tennis team for two years and also volunteered at Mercy Hospital.
Zaidi frequently has been asked to write blogs for the "Hufffington Post/Teenage Blogger." Her essays earned her an appearance on the TV show, "The War Room," with the former Governor of Michigan, Jennifer Granholm. Currently, she is a student at Hendrix College in Conway, Arkansas.
The work done by Zaidi and other Young Democrats in Southwest Missouri "is taking place in one of the most Republican areas of the state," was noted by Brooks.