New Springfield Little Theatre Season is announced
June 18, 2014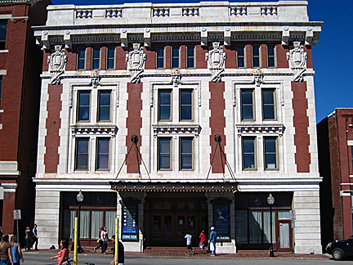 LANDERS THEATRE
The Springfield Little Theatre, the oldest civic theatre operation of its size in Missouri, and one of the largest in mid-America, has announced its 2014-15 season.
The nine productions(three from the Kraft Family series) are:
Ticket purchases
Patron tickets (vouchers) may be purchased based on the following levels: Actor, $495, 16 vouchers; director, $990, 32 vouchers; producer, $1485, 48 vouchers; executive producer, $1980, 64 vouchers and angel, $2475, 80 vouchers. Patron tickets include attendance at private opening night events, ticket flexibility, priority seating, free ticket exchanges, free parking, tax deduction, 10% off additional tickets purchased and recognition in the Playbill. Specific rules regarding the use of vouchers may be found on their reverse side.
Season tickets are based on these options: (1) one ticket for each of the 9 performances; $121 per adult, $108 per senior and students and $75 for children 14 and under. (2) four tickets to be used for four different shows; $101 per adult, $$90 for seniors and students.
One ticket for the plays designated as Kraft Family Series performances are $36 for adults, seniors and students and $29 for children 14 and under.
History of the theatre
Fire is in the history of the Landers Theatre and its predecessor the Baldwin Theatre, first on January 6, 1909, when the Baldwin was completely demolished, and then in December 1920 when reportedly a boiler explosion destroyed much of the Landers. Reopened in May 1921 as part of the Orpheum Circuit, the Landers attracted many famous touring artists and vaudeville acts. In 1970 the Landers was purchased by the Springfield Little Theatre organization that had been in operation elsewhere since 1934. The theatre continues to undergo a series of restoration projects, preserving its original Baroque Renaissance/Napoleon style architecture and decor thanks to contributions from Springfield individuals and businesses and the city of Springfield's Hotel-Motel Tax Matching Fund. Recent restorations of the 641-seat structure, placed on the National Register of Historic Places in 1977, have been cited with awards from American Institute of Architects.
The Springfield Little Theatre, a volunteer driven organization, is located at 311 E. Walnut Ave., Springfield. The box office is open Mondays-Fridays from 11 a.m. to 5 p.m. Please phone (417) 869-1334 for tickets.