It's mariachi time at the free butterfly festival
June 19, 2014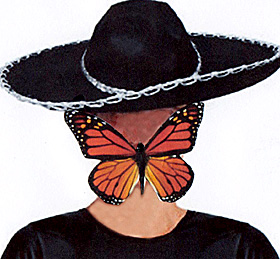 For the first time ever, Springfield's annual Butterfly Festival will metamorphose into a re-imagined Sister Cities Fiesta, featuring live mariachi music along with special guests and activities.
Festival meets fiesta on Saturday, July 12, 2014, at the Springfield Botanical Gardens at Nathanael Greene/Close Memorial Park, 2400 S. Scenic Ave, beginning at 9 a.m. with the opening of the Bill Rosen Butterfly House that is located near the Botanical Center. At 1 p.m. the Mariachi Viva Xalisco band takes centerstage southeast of the Butterfly House for a performance with special guest Paco Padilla, a popular artist and folk singer from Tlaquepaque, (Jalisco) Mexico, Springfield's sister city. The group is in town to entertain also at the annual Ball of the Wild, hosted by Friends of the Zoo.
"Friends of the Garden looks forward to joining forces with the Springfield Sister Cities Association to add new elements to the popular Butterfly Festival and create a robust day of free activities and entertainment for people across our region," FOG President Lisa Bakerink said.
The only all-native butterfly house allows visitors to get a close-up look at the life cycle of butterflies while it also works to conserve butterfly habitats in our area. One of the most at-risk butterflies is the Monarch, which winters in Mexico at sites including a major sanctuary in Michoacán, an inland state near Jalisco.
Highlights of the Butterfly Festival include the caterpillar petting zoo, games, crafts, storytimes, and workshops. The popular Pollinator Parade and Butterfly/Caterpillar Costume Contest also are planned. Stormy Weather and Carter & Connelley will perform in the morning.
In the afternoon along with enjoying the mariachi performance, visitors will be entertained by traditional Mexican dances, and be able to buy items associated with Springfield's sister city.
"This is a great opportunity for SSCA to partner with a popular summer event where we can introduce new people and welcome old friends to the exciting music of Tlaquepaque's musicians and our good friend, Paco Padilla, who charms audiences every time he visits Springfield," SSCA President Carolyn Gerdes said.
Donations will be accepted for this event. Sponsors for the Butterfly Festival include Ruth Arneson, Dan and Susan Cardwell, Hogan Land Title and Ozarks Screen Printing. The Sister Cities Fiesta replaces the annual Artsfiesta that traditionally was held near Cinco de Mayo (May 5).
Jenny Edwards contributed to this article..