4-H takes on new significance
June 21, 2014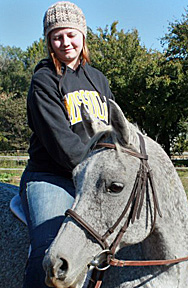 Joni Houghton of Neosho, pictured, has been named the new University of Missouri Extension education program assistant for Newton County. A career 4-H member, Houghton was hired to develop and implement new programs in order to reach members of the multi-ethnic youth of Newton and McDonald counties.
"I am the non-traditional 4-H person here in Newton County," Houghton said. "I am working to reach new youth audiences that have not participated in 4-H by developing STEM-based, free generating programs...I want to help 4-H expand to reach new generations, instilling character values and the ability to succeed as we move into the ever-changing 21st century."
Wanting to see 4-H grow and address content areas besides agriculture and traditional 4-H activities, Houghton hopes to get support from local schools, businesses and organizations that work with under-served and impoverished populations. Her salary temporarily will be supported by grants and similar funding.
Houghton received a bachelor's in psychology and counseling from Ozark Christian College in Joplin. She currently is pursuing a Master of Science in Clinical Mental Health Counseling and Marriage and Family Therapy at John Brown University in Siloam Springs, Arkansas.
To support this program contact Houghton by phone at (417) 455-9500 or by e-mail here.