Events for July 2014 appear below focusing on the cities of Springfield in Missouri and surrounding areas. Events are posted as we get them. Come back often for updates. To include your event of interest send an e-mail here.

Please check with venue for any cancellations or postponements due to weather.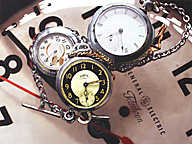 continuing 1-Aug. 3: The 53rd exhibition of Water Color U.S.A., a national juried show recognizing aqueous media painting and open to artists from all 50 states and territories, will take place at the Springfield Art Museum, 1111 E. Brookside Dr., Springfield. Works are judged for a variety of prizes and possible purchase by the Museum. The top award totals $3000 cash; approximately $40,000 in cash and merchandise awards are available. Organized in 1962 by the Springfield Art Museum, this event aims to attract the best in contemporary American watermedia and strives to exhibit work by artists who are pushing the boundaries of the medium. A catalogue of the exhibition will be available. (photo is of Time After Time by Denny Bond)
1-Sept. 30: The Springfield Discovery Center is partnering with the Salvation Army to collect donations from the community to provide local children with school supplies needed for the coming school year. A barrel will be placed inside the Discovery Center lobby for donations of new supplies in original packaging. Just for donating, Discovery Center members get a free guest pass and non-members receive a buy one, get one free admission pass. Passes expire on Sept. 20, 2014.
1, 4-8, 11-15: These are the dates for the blood drive at the Springfield Blood Donation Center, 313 E. Battlefield Rd., Suite B, Springfield and times: 8 a.m. to 4 p.m. on July 4, 5, 6, 11, 12, 13; 10 a.m. to 6 p.m. on July 1, 7, 8, 14, 15; 12:30-4:30 p.m. on July 2 at the Ramada Oasis Convention Center, 2546 N. Glenstone Ave., Springfield and 1-5 p.m. on July 10 at the U.S. Marine Corp. Recruiting Sub Station, 900 E. Battlefield Rd., Springfield. To make an appointment phone (800) 733-2767. All blood types are needed. A blood donor card or driverís license or two other forms of identification are required at check-in. Individuals who are 17 years of age (16 with parental consent in some states), weigh at least 110 pounds and are in generally good health may be eligible to donate blood. High school students and other donors 18 years of age and younger also have to meet certain height and weight requirements. To encourage more people to make time to donate blood before and after Independence Day, all presenting blood donors through July 7 will receive a commemorative Red Cross T-shirt, while supplies last.
continuing 2, 9, 16, 23, 30 (every Wednesday) the Ozark Downtown Farmers Market will offer goods from over 20 vendors. The event takes place from 4:30-7:30 p.m. on the square. Featured are local foods and live music.
continuing 7-11, 14-18, 21-25: "Plants and Gardening- Growing for Food and Sun," "Arts in the Garden-Inspiration from Nature" and "Birds, Bugs & Butterflies, Garden Friends" are the remaining topics offered at for the weekly Botanical Day Camp offered at the Springfield Botanical Gardens, 2400 S. Scenic, Springfield. Featured also are field studies, garden games, keepsake crafts and botanical snacks. Enrollment is limited to 15 students per week. Registration is $75 per child per week or $50 per child per week for children or grandchildren of members of Friends of the Garden or who are members themselves. For camp guidelines and an enrollment form go here.
10, 17, 24: In addition to getting a free movie ticket kids 6-12 will be able to participate in "Cookies to Canvas" starting at 10 a.m. at the IMAX Entertainment Complex, 3562 Shepherd of the Hills Expy., Branson. Chocolate cookies will be provided with step-by-step instruction provided by Christie Hawkins at a cost of $12 per person. Movie tickets must be redeemed at either the Branson IMAX, Elite Cinema III or Branson Meadows Cinema II through the end of the year. Adult supervision is required. Brushes, paint, apron and easel will be supplied. RSVP by phoning (417) 496-7972.
11-Aug. 30 (every Friday and Saturday night): The annual Movies at Founders Park will take place at 330 E. Water St., Springfield, with a new movie each day. A complete listing of the movies that will be shown may be found here. The showings begin at dusk. The cost is free with advanced tickets or family 4-packs available at the following locations each Monday prior to the event: Chesterfield, Dan Kinney and Doling Family centers; Mediacom Ice Park, Busch Municipal Building and Mediacom Communications, 1533 S. Enterprise. Admission without a ticket is $5, children 5 years of age and younger are always free. Bring lawn chairs or blankets. Concessions are available. No pets, alcohol or tobacco are allowed.
continuing 12, 19, 26: A Summer Spanish Club for children 7-12 will take place from 9:30-11:30 a.m. at the OC, 1530 W. Jackson, Ozark. $3 per child or a punch card for 4 classes may be purchased for $10. Payment must be received by 6 p.m. on the Thursday before each class. Learn the Spanish alphabet, develop basic vocabulary and grammar, play learning games, do crafts, and hear the Spanish language spoken. Also, children ages 3-6 are welcome to join the club at 11 a.m. for a free short story time. A parent/guardian over age 18 MUST remain in the building for supervision.
12-Aug. 1: At the opening Chayann "Silver" Perez will be demonstrat13: A Nixa Fest hosted by Nixa Christian Church and benefiting Least of These Food Pantry will take place from noon to 3 p.m. in Rotary Park, next to Price Cutter. It featuring graffiti art during a presentation from 4-7 p.m. at The MARC, 822 W. Mount Vernon Blvd., Mount Vernon. Linda Teeter also will be showing her photographs of urban graffiti art that she took in several U.S. cities. Born into the graffiti culture of California, Perez' art is influenced by Caravaggio, Vermeer and da Vinci.
13-16: A vacation Bible school for children pre-K thru 4th grade will take place from 6:30-8:30 p.m. at the ozark United Methodist Church, 2850 State Hwy. 14, Ozark. Crafts, games and snacks. For a registration form go here.
14-Oct. 11: An exhibit "The Show Must Go On: Theaters and Entertainment Venues in Springfield" sponsored by the Springfield History Museum will be presented at the historic Fox Theatre, 157 Park Central Square. Viewing is from 10:30 a.m. to 4:30 p.m. Admission is $3 for adults and $1.500 for children. For more information phone (417) 831-1976.
15: The Springfield Herb Society invites new members to join them in a program entitled, "Christmas in July" or how to grow herbs for holiday presents. The talk will take place beginning at 6 p.m. at the Springfield Botanical Gardens Center, 2400 S. Scenic, Springfield.
16: The Rockstar Mayhem festival will take place at the Verizon Amphitheatre, 14141 Riverport Dr., Maryland Heights (near St. Louis). Featured on the Victory Records stage is the Revolver Magazine cover band Emmure as well as Ill Nino, Wretched, Islander and Erimha. The tradition to honor our military with the "Metal of Honor" will be continued with a portion of ticket sales supporting it. Included in the events are reduced admission and VIP auctions with onstage and backstage access. Metal of Honor silicone wristbands will be given out to designate the attending military personnel. A select number of complimentary tickets will be available to veterans on a first come, first served basis here. Tickets and a full cast of performers may be found here.
17: This is the deadline to purchase tickets for the benefit fashion show at Ms. Gilmore's Carriage House at the Humboldt Mansion, 847 S. Scenic Ave., Springfield that will take place from 6-8 p.m. on Thursday, Jul. 24, 2014. The historic fashions will be provided by the Springfield-Greene County History and Art Museums featuring designers Nancy Farris-Thee and Sara Gonzales. Tickets for the show and a light meal are $35 per person. Proceeds will benefit the interior restoration of the Liberty one-room schoolhouse due to open on September 21, 2014, at the Gray/Campbell Farmstead in Nathaniel Greene/Close Memorial Park, 2400 S. Scenic, Springfield.
17: "Carbon Nanotubes and Graphene" is the title of the next Science Cafe presented by Dr. Stephen Gibbons, director of technology for Brewer Science's Carbon Electronics Center. It will take place from 6-8 p.m. at Mille's Cafe, 313 S. Jefferson Ave., Springfield. What is carbon nanotube and graphene, why research scientists are so interested in these items, and even more importantly, what the future holds for incorporating carbon nanotube and graphene into a variety of technologies will be the topics of discussion. The event is free; food may be purchased.
18: Boogie Wonderland, a disco concert with sounds and sights of the 70s will be live in concert beginning at 8 p.m. at the fountains of Branson Landing in Branson. Guests are encouraged to dance to the music. Free.
19: "Green Cleaning" will be the topic at the Christian County Library, 1005 N. 4th St., Ozark beginning at 10 a.m. The best tools and products will be discussed.
19: Bring two unopened food items to the Northpoint Church, 1362 Bryan Dr., Nixa from 5-7 p.m. and enjoy music by MIXTAPES, a 90s cover band; a classic car show and parade and food catered by Dickey's Bar-b-cue. Needed are cereal, pancake mix, flour and sugar, peanut better and jelly, canned tuna/salmon/chicken, kid friendly pasta meals, snack crackers, canned fruit and canned peas.
19: Arch Bonnema will be the speaker at the Two Arks Conference (Noah's Ark and Ark of the Covenant) to be held beginning at 10 a.m. in the Great Hall of The Great Passion Play, Eureka Springs, Arkansas. Attendees will be able to touch pieces of the ancient ship and view footage from recovery expeditions. Tickets for the conference which includes breakfast are $10 per person or free for entry ticket holders for the Holy Land or Play presentations. For more information go here.
22 (4th Tues. of the month): This is the meeting beginning at 6 p.m. of the Southwest Native Plant Society at the Springfield Botanical Center, 2400 S. Scenic. New members welcome. (Dues yearly are minimal; $10 to join the Missouri Native Plant Society and $5 to join the chapter. Includes PetalPusher newsletter.) Bring clippers, buckets, gloves, water and a camera for work in the native garden followed by a stroll to see the prairie plantings.
25, 26, Aug. 2: The next Community Emergency Response Team (CERT) will take place on Friday from 6-9 p.m. on the next day from 8:30 a.m. to 4 p.m. and on the following Saturday from 8:30 a.m. to noon. The location is the Community Building, 119 NW Washington, Billings. For more information contact Linda Barger, assistant director Christian County Emergency Management at (417) 581-2126.
26: "Dutch Oven Cooking" is the subject of a talk by Dr. Larry Quinalty, Ozark folklore specialist and cookbook author. It will take place beginning at 10 a.m. at the Christian County Library, 1005 N. 4th St., Ozark. Learn his outdoor cooking techniques during his demonstration. He also will be promoting his book, Gourmet Dutch Oven Cooking.
31: Join The Social Easel for Open Paint Night at The Impact Center for Enrichment, 227 Downing St., Suite 6, Nixa (CC highway, just beyond Main St.). Tickets are $40 each and include two hours of painting instruction and all supplies. 6:30-8:30 p.m. Bring your own beer. (417) 725-3078.
31: This is the deadline to pre-register for the 11th Annual Kid'Athlon, a triathlon (swimming, biking and running) for ages 5-12 that takes place with a 6:30-7:30 a.m. check-in on Aug. 2 at Meador Park, 2500 S. Fremont, Springfield. Events include a 50-meter swim, .5 to 1.1-mile run and a .5 to 1-mile bike ride, depending upon the age group. Bikes and helmets are required for the race. Early registration, now through Friday, July 18, is $25 per child, $15 per additional child from the same household. Late registration is July 19-31, at $35 per child, $25 per additional child from the same household. Register at Chesterfield Family Center, Dan Kinney Family Center or Doling Family Center. For more information, call Audra Schupbach, Dan Kinney Family Center Coordinator, at 417-891-1500. Mandatory Kidíathlon packet pickup is Friday, Aug. 1, at Dan Kinney Family Center, 2701 S. Blackman Road, from 11 a.m. to 7 p.m.
---
LINKS OF INTEREST