You will be horror-stricken
June 29, 2014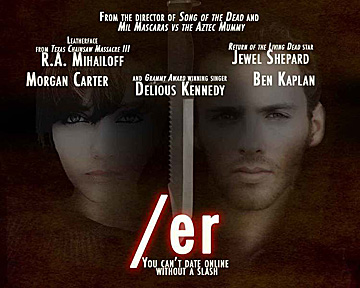 Horror film actors R.A. Mihailoff (the slashing serial killer in Texas Chainsaw Massacre II) and Jewel Shepard (Casey in The Return of the Living Dead) have joined other actors in Columbia, Missouri to star in /er (s/asher), an Indy film being directed by native Joplinite Chip Gubera and produced by fellow faculty member and cinematographer, Brian Maurer. Rounding out the core production team is SAG actor and comedian Ben Kaplan. Filming is set to begin on June 29, 2014, and should take 15 days.
The film written by Chelsea Andes promises to feature twisted characters who execute psychopathic killings and "sexualized" horrors never before seen on screen. The setting of the film for its backwoods characters--rural obsolete and remote--was chosen to assist in creating the intense and bizarre fear that is said to build from scene to scene. The plot showcases Jack and Kristy, a couple who meet on an online dating site and agree to a first date, a romantic weekend at a cozy cabin deep within the woodlands of rural Missouri. They take pleasure in discovering each other and their surroundings until they are forced into what is described as "chaotic, terrorizing and sexual horrors."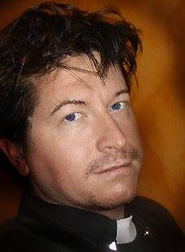 In the last 15 years Chip Gubera, pictured at left, has produced or directed over 30 short films and five feature films, 17 of which were accepted at film festivals around the world, eight of them winning awards. Some titles include: the zombie musical, Song of the Dead; Mil Mascaras vs. the Aztec Mummy and Academy of Doom.. The Columbia, Missouri resident holds a Master of Education from the University of Missouri where he teaches media technology in the IT program. He also freelances as a music composer and a visual effects and motion graphics artist.
Considering his latest endeavor as his most aspiring and promising film to date, Chip Gubera said:
""I love making films. I love telling stories. I've grown really fond of our scriptwriter Chelsea Andes as she developed this script and allowed me to add creative guidance. For me, it's about telling the best story possible, and this story is a crazy, crazy story to tell! /er may not be for everyone, though for the right audience it will be a real thriller and I think they will really dig it. One of our lead actors and co-producer on the film, Ben Kaplan is a really great friend and an actor I believe in a great deal, who is a previous student of mine at Mizzou. He's inspired me a great deal in this movie and in helping to add important nuances to the film and the characters."
The production crew from Mucho Mucho Mucho Productions and Burnt Bridge Films has used the website "IndieGoGo" to help meet a $15,000 fund-raising goal. Money raised will be used to secure locations for the production, hire additional on-screen talent with name recognition and offset cost for lodging, transportation and meals.
Chip Gubera, 39, is the son of Dr. Conrad Gubera, professor of sociology and international studies at Missouri Southern State University. Dr. Gubera helped produce the documentary, Joplin, Missouri - A Tornado Story that was directed by his son. The film narrated by George Noory of "Coast to Coast" was nominated for a Mid-American Emmy. It won "Best Feature Documentary" and Chip Gubera was lauded as "Best Director of a Documentary" at the 2012 St. Louis Filmaker's Showcase.