Denny's restaurant opens in Neosho
July 11, 2014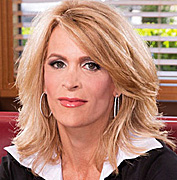 Dawn Lafreeda of Den-Tex Central, Inc. is the franchisee behind a new Denny's restaurant location in Neosho, MO. (photo by Sarah Wilson)
Dawn Lafreeda was only 23 in 1984 when she was able to purchase her first Denny's restaurant. At the time she says she had second thoughts about having to supervise 35 employees. The former hostess/waitress had bettered her skills by learning accounting and personnel management during a second job during her college years and Denny's management had taken notice of her accomplishments. Proving that she could manage four ailing restaurants in west Texas, she convinced Denny's executives to sell her a store in San Antonio. Now the largest single-owner franchisee in the Denny's system, Lafreeda has added to her empire by opening a new location in Neosho at 3001 Lusk Dr.(near the Walmart Supercenter). The official opening is at 8 p.m. on Sunday, Jul. 13, 2014.
Open 24/7 the restaurant that calls itself a "full service diner" will have a staff of 75 employees. The menu that includes items for breakfast, lunch, dinner and late-night snacks will be served 365 days a year.
"We are extremely excited to introduce Denny's to the great city of Neosho," Lafreeda said. "We look forward to becoming a local gathering place where our guests can always count on good service, a great atmosphere and, most importantly, delicious food."
Several menu specials make dining at Denny's affordable, according to a restaurant spokesperson. Its all day, every day $2 $4 $6 $8 Value Menu® lets guests choose from 16 dishes, including traditional favorites as well as several new a la carte items. In addition, each paid adult entrée allows children ages 10 and younger to choose items from the kid's menu without charge, an offer good from 4-10 p.m. on Tuesdays and Saturdays. Menu substitutions using egg whites and heartier wheat breads may be made as part of their "Fit Fare" program, and using the expansive Build Your Own Grand Slam® menu, diners have more than 250 ways to build a meal with 550 calories or less, and 32 ways to build a meal of 400 calories or less..
No restaurant these days can be without freebies and discounts. At participating locations--Neosho presumably being one--any guest may show proof it's his or her birthday to receive a Free Birthday Grand Slam® menu selection for dine-in. And AARP members may save 15% off of the tab by showing their membership cards.
All told there are 1,680 franchised, licensed and company-owned restaurants in the Denny's chain. They are located across the United States and in Canada, Costa Rica, Mexico, Honduras, Guam, Puerto Rico and New Zealand.