Motorcycle rider in deadly accident in Joplin
July 11, 2014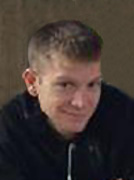 Aaron M. Kilby, 24, of Webb City, pictured, was killed when he lost control of the motorcycle he was riding on Range Line Road at 11th Street. Witnesses reported that Kilby was doing a "wheelie" on his motorcycle when he lost control and struck the right curb. The motorcycle traveled onto the sidewalk where it struck a light pole and continued north across 12th street and into the McDonald's driveway where it struck the side of a passenger car driven by Mary Boylan. She sought medical attention at a local hospital for minor injuries.
Aaron Kilby is survived by his father and stepmother, William Hill Kilby and Lisa M. Kilby of Webb City and Jenna R. Kilby of Chattanooga, Tennessee. He also leaves three brothers, Brendan M. Kilby and Christian R. kilby of Webb City and Dylan Kilby of Tennessee.
According to his Facebook page, Aaron Kilby was a back up lead worker at Jasper Products. He was in a relationship with Kelly Crawford of E. Newton.
His obituary provided by Simpson Funeral Home of Webb City may be found here.
Sgt. Rusty Rives of the Joplin Police Dept. contributed to this report.