Phoenix Fired Art hires new studio manager
July 18, 2014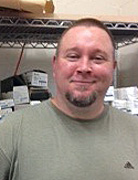 Geoffrey Kunkler, pictured, a Joplin native, has become the new studio manager of Phoenix Fired Art. He returns to his home town accompanied by his wife Tiffany who finished her Master of Fine Arts in Metal Smithing and Jewelry from the University of Iowa.
After obtaining a Bachelor of Fine Arts in Ceramics from Southwest Missouri State in Springfield, Geoffrey earned a Master of Fine Arts in Ceramics from the University of Kansas in Lawrence. For the last three years he taught undergraduate classes and helped manage the studio at KU.
The studio owned by artist Heather Grills is located at 1603 S. Main in Joplin.