New Madrid fault is bigger hazard than thought
July 26, 2014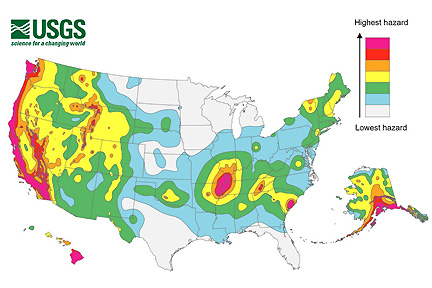 Next to the impressive seismic activity on the U.S. west coast, the New Madrid fault represents the next highest hazard. It significantly affects several states around New Madrid, a county in the bootheel of Missouri.
The New Madrid Seismic Zone has been identified to have a larger range of potential earthquake magnitudes and locations than previously identified. This is a result of a range of new research, part of which recently was compiled by the Nuclear Regulatory Commission.
This observation was included in a report by the U.S. Geological Survey. To help make the best decisions to protect communities from earthquakes, new USGS maps now display how intense ground shaking could affect the entire nation but particularly in 16 states. Missouri is part of the high risk list that also includes Alaska, Arkansas, California, Hawaii, Idaho, Illinois, Kentucky, Montana, Nevada, Oregon, South Carolina, Tennessee, Utah, Washington and Wyoming.
These maps are part of USGS contributions to the National Earthquake Hazards Reduction Program (NEHRP), which is a congressionally-established partnership of four federal agencies with the purpose of reducing risks to life and property in the U.S. that result from earthquakes. The contributing agencies are the USGS, Federal Emergency Management Agency (FEMA), National Institute of Standards and Technology, and National Science Foundation (NSF). As an example of the collaboration, the hazards identified in the USGS maps underlie FEMA-sponsored seismic design provisions that are incorporated into building codes adopted by states and localities. The maps also reflect investments in research by academic and other scientists supported by grants from the USGS and the NSF.
Are you thinking, why should I worry about New Madrid? It's on the other side of the state from Southwest Missouri. The USGS may agree but in 1811 and 1812 documents indicate that earthquakes in the New Madrid fault zone were so powerful that they were felt more than 1,000 miles away.