The Kennedys celebrate 50th anniversary
July 31, 2014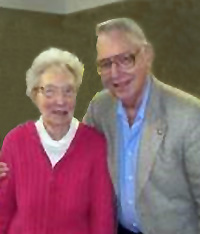 Mr. and Mrs. Jack L. Kennedy of Pittsburg, pictured, will mark their 50th wedding anniversary on August 8, 2014. They were married August 8, 1964, at St. Peter's Episcopal Church in Pittsburg, Kansas.
A Joplin, Missouri native and 1952 graduate of Joplin High School (Memorial), Jack Kennedy, an army veteran, also was a graduate of Pittsburg State University, class of 1956. A former editor of the PSU Collegio, he was a recipient of a journalism trophy named after James Gordon Bennett, an officer in the press club, member of the Canterbury Club and affiliated with Tau Kappa Epsilon Fraternity.
Jack Kennedy joined the staff of KFSB 1310, WMBH 1450 and now defunct The Southwestern. During the early years of their marriage he was a reporter/education writer for the Lincoln Journal in Lincoln, Nebraska, the Wichita Eagle in Wichita, Kansas and The Morning Sun of Pittsburg. From 1996 to 2006 he was an adjunct professor of English at Pittsburg State University. He is past president of the International Education Writers Association and has written for the Chronicle of Higher Education and the The New York Times Sunday edition as well as having been on special assignment for The Times of London. Currently, he is the book review editor for THE JOPLIN INDEPENDENT and VOICE OF THE OZARKS.
Dorothy Joann (Jo), nee Slaughter, is a Lee's Summit, Missouri native. She holds a bachelor's degree from Central Methodist College and a master's degree from the University of Arkansas. Jo Kennedy has taught at the College of William & Mary in Williamsburg, Virginia and Drury University in Springfield, Missouri where she was adviser to The Mirror, Drury's award-winning newspaper. She has been a tutor, mentor and adviser to many students at various educational levels.
A 50th anniversary reception will be hosted in their honor by their son, Jack Kennedy Jr., KKOW radio communications coordinator; their daughter-in-law Sandra, who is employed by The Bank of Minden in Liberal, Missouri; and their granddaughter Mykala. It will take place from 2-4 p.m. on Saturday, Aug. 9, 2014, at the Flag Church, 1234 N. Rouse, Pittsburg.