Blankenship joins Neosho physicians group
January 20, 2015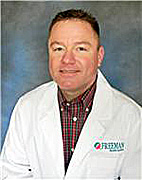 Neosho, Mo. – After working as a hospitalist for Freeman Health System in Joplin, Dr. Harold Blankenship, pictured, has joined the Freeman Neosho Physician Group.
"I'm happy to transition within the Freeman family to Neosho. I truly believe in the importance of continuity of care for the patient within Freeman's services," Blankenship said. He also believes internal medicine will allow him to play an active role in his patients' day to day health.
With a particular interest in cardiovascular medicine and diabetes treatment, Blankenship completed his medical school training at Oklahoma State University in Stillwater, OK and his internship and residency at the Tulsa Regional Medical Center.
According to David Smith, spokesperson for Freeman Health System, Blankenship's decision to join the Freeman Neosho Physicians Group was based "largely on his love for the area, and previous work with the staff at Neosho hospital."
"He is establishing a traditional practice, which means he will see patients in the clinic setting, but he will also see his patients at Freeman Neosho Hospital," said Renee Denton, Freeman Neosho Chief Operating Officer.
For the past nine years, Blankenship provided care alongside the Freeman West medical staff.