Blasters name Mercy as sports medicine provider
January 20, 2015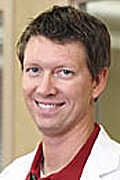 The Joplin Blasters have agreed to a multi-year partnership that will designate Mercy Hospital as its' Official Sports Medicine Provider. As part of the agreement, Mercy will handle all sports medicine needs for the Blasters, as well as, have a major presence at Joe Becker Stadium. Dr. Russell Kennedy, pictured, will be tasked as the lead sports medicine physician of the Joplin Blasters.
Kennedy received a Doctor of Osteopathy from Kirksville College of Osteopathic Medicine. He completed his residency in family medicine at Metro Health Hospital in Wyoming, Michigan.. Currently he is a Mercy Clinic physician with an office in Stones Corners at 6151 N. Main St. Rd., Webb City.
"Mercy is thrilled to be a part of this exciting addition to Joplin. We welcome the Joplin Blasters to our community and are anxious to be able to watch professional baseball in our own back yard,"Kennedy said. "As the official sports medicine provider we look forward to working along side these athletes throughout the season. Bringing professional baseball to Joplin is a big step in the growth of Joplin. The Blasters will certainly provide quality family fun and entertainment in our hometown. 2015 is going to be a great year for Mercy and for the Joplin Blasters!"
Mercy is the fifth largest Catholic health care system in the U.S. and serves millions annually. Mercy includes 34 acute care hospitals, four heart hospitals, two children's hospitals, three rehab hospitals and two orthopedic hospitals, nearly 700 clinic and outpatient facilities, 40,000 co-workers and more than 2,000 Mercy Clinic physicians in Arkansas, Kansas, Missouri and Oklahoma. Mercy also has outreach ministries in Louisiana, Mississippi and Texas.
"Mercy couldn't have been a more natural and perfect fit for this partnership," said Shawn Suarez," GM for the Joplin Blasters. "We are excited to align our two organizations and to open our two new facilities in 2015 as a symbol of the rebuild that is taking place in Joplin. Their level of commitment to us just further validates this communities' readiness for professional baseball, and we envision this partnership being successful for many years to come."
The Blasters are the newest member of the South Division in the American Association of Independent Baseball. They will play a 50 home game schedule beginning in May of 2015 at a renovated Joe Becker Stadium. Ticket information, as well as, general information on the Blasters may be found online here or by calling (417) 437-6105.