Furgerson gets official title
January 20, 2015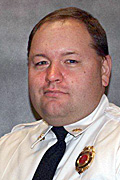 James Furgerson, pictured, has been named fire chief, according to an announcement by Joplin City Manager Sam Anselm. He had been serving as interim fire chief since Mitch Randles' retirement in August 2014.
"Jimmy will be an excellent addition to the City's leadership team," said Anselm. "I am confident that he will serve the community well as we work to continue to meet the current and future needs of our city."
With 19 years of fire service experience, including 14 years with the Joplin Fire Department. Furgerson joined the Fire Department in 2001 and was promoted to driver in July of 2004. In 2006 he was named captain. He served as deputy Fire Chief since February, 2014.
Furgerson is a Missouri State Certified Fire Investigator, Inspector and Instructor. Furgerson is also a paramedic and hazardous material (Haz-Mat) technician. He has a Bachelor of Science degree in Business Administration from Missouri Southern State University and an Associate Degree in Fire Science.
"I look forward to serving the citizens and the City in this new role," he said. "One of the priorities for the Fire Department will be to complete the Public Safety Training Center. This facility will be a great asset for our crews, as well as the Joplin Police Department. It will provide many opportunities for training exercises, a driving course and classroom settings for our staff. I'm excited about finishing this project to provide a safe environment for these types of maneuvers for our public safety staff."
Furgerson' s promotion was effective January 14, 2015. His starting salary is $75,000.