Construction project to begin on I-44/I-49
February 17, 2015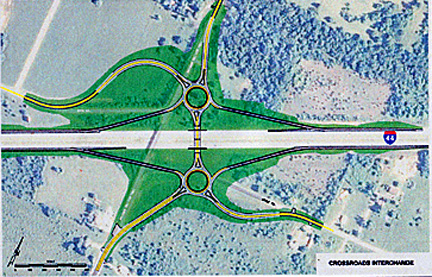 Proposed new interchange for the Crossroads Business and Distribution Park in Joplin
Travel will be impacted on I-44/I-49 beginning March 2 through November 1, 2015, according to the Missouri Department of Transportation (MoDot). Planned is a new interchange east of Exit 11 (where I-49 turns south toward Arkansas) in order to provide direct access to the Crossroads Business and Distribution Park at Prigmor Avenue north of Route FF.
The project will include:
Building an interchange at Prigmor Avenue (Jasper County Road 190) over I-44/I-49 with ramps connecting to the interstate
Building roundabouts on each end of the bridge over I-44/I-49 to connect to ramps on Prigmor Avenue
Resurfacing Prigmor Avenue between the new interchange and 7th Street (Route 66) to the north
Besides occasional short-term lane closings and narrowed lanes, traffic impacts will include closing of the current Prigmor Avenue bridge during construction of a replacement and interchange over I-44/I-49 later in the project. Brief closings of I-44/I-49 would occur mostly at night.
The interchange project, a major factor in attracting the Blue Buffalo pet food plant to Crossroads, will be paid for in part by the Jasper County, city of Duenweg and MoDot Economic Development funds awarded to the city of Joplin. The total cost of the project is $8.6 million. Emery Sapp & Sons, Inc. of Columbia, Missouri is the prime contractor.