Be a part of movie history
March 01, 2015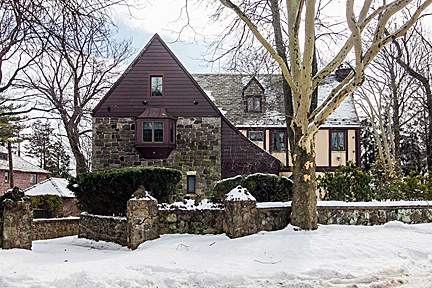 If you are a fan of "Godfather" movies, you should recognize this as the movie set home of Vito Corleone.
Produced in 1972 the blockbuster crime film, The Godfather was awarded three Oscars including Best Picture. Starring Marlon Brando, Al Pacino, James Caan, Robert Duvall and Diane Keaton, the film about the Mafia circa 1940s-60s was filmed in New York City locations including Bellevue Hospital, St. Patrick's Cathedral, Calvary Cemetery and a 1930s-built Staten Island Tudor, the stately home of Vito Corleone (Marlon Brando).
Reportedly, Paramount Pictures bought the film rights to Mario Puzo's book based on the first 60 pages written in 1967, a savvy decision since the book sat on the New York Times best seller list for 67 weeks, selling over 10 million copies. But in spite of the popularity of the book, Paramount couldn't find a director who would join the author in composing a screenplay. Two years later a financially strapped Francis Ford Coppola agreed after disagreeing.
Coppola first challenge was in convincing the studio that the movie not be filmed in Kansas with a small budget but in New York and nearly tripling the cost. And it was one of the actors portraying Carlos Rizzi (Gianni Russo) who grew up in the area who suggested that the home of Edward and Mary Norton in the Todt Hill neighborhood of Staten Island be chosen as the Corleone home. While Edward Norton thought the request to use their home was a joke, Mary Norton pursued the offer in return for a new roof.
The Norton home located at 110 Longfellow Ave. in Staten Island, New York was considered large but unpretentious enough to blend in with five neighboring homes to look like one big compound and a good place for the Corleone family and associates to hunker down during the Mafia Wars. Its grounds also served well for the scene involving the movie's opening garden party wedding reception for Vito's daughter, Connie.
The 6,248-square-foot, five bedroom, seven bathroom home, after a complete renovation in 2012, including the addition of an in-ground saltwater pool and infrared grill and cook's kitchen instead of the 1940s original style one, is now for sale for a mere $2.895 million. For more information go here.