Isner looks forward to joining Springfield Lasers
March 19, 2015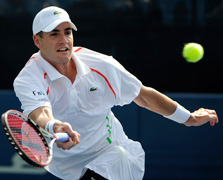 Tennis player John Isner, pictured, the number 1 American male in the draft of the Mylan World Team Tennis Pro League, will become the marquee player for the Springfield Lasers, making special appearances at home and elsewhere during the season. The Lasers will be celebrating their 20th season in 2015 under the guidance of General Manager Paul Nahon and owner John Cooper.
I'm really looking forward to joining the Springfield Lasers," said Isner. "I know Springfield has first-class tennis fans and the Lasers have been extremely close to bringing home the King Trophy the past couple of seasons. I'm very hopeful to help put them over the top in 2015."
Isner, 29, from Greensboro, North Carolina currently resides in Tampa, Florida. The 6'10" righthander plays with a Prince Warrior racquet. He recently was defeated by Novak Djokovic in the BNP Paribas Open, forcing the number one player to a tie-breaker in the second set. Isner lost 4-6, 6-7 (5-7).
Also new to the Lasers' team this year are German doubles specialist Andre Begemann and American Alison Riske. Riske played previously for the Philadelphia Freedoms.
Two players from the 2014 were protected in the draft. German doubles specialist Anna-Lena Groenefield, a winner of the 2014 French Open Mixed Doubles and Michael Russell, the short spunky player whose overtime singles wins helped the Lasers win numerous matches in 2014. Coach John-Laffnie (JL) de Jager also returns, enjoying his ninth season.
We have an outstanding team for our 20th season of Lasers tennis," said Bob Belote, owner representative. "We're thrilled to bring the No. 1 American, John Isner, to Springfield. We're very happy to bring back Anna-Lena Groenefeld and Michael Russell, and we think Andre Begemann and Alison Riske will be great additions to our team."
For more information about the Lasers go here. The 2015 schedule has not yet been announced.