McKean is named MoDot assistant district engineer
April 16, 2015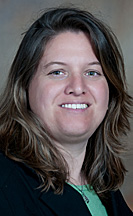 Laurel McKean, pictured, a 19-year veteran, has been named assistant district engineer for the Missouri Department of Transportation's southwest district, including the counties of Jasper, Newton, McDonald and Lawrence. According to MoDot, McKean will work with local, state and federal lawmakers, chambers of commerce, business leaders and the public as well as adjoining state departments of transportation including northwest Arkansas,northeast Oklahoma and southeast Kansas, acting as "the face of MoDot."
A graduate of Kickapoo High School in 1991 and Missouri University of Science and Technology in Rolla earning a degree in civil engineering in 1996, McKean first became a construction inspector at the Branson Project Office, overseeing highway construction projects including the construction of the Branson Maintenance and Project Office complex on the north side of Branson. She served as a senior traffic studies specialist and a traffic operations engineer in the former District 8 in Springfield where one of her main duties was co-manager of the Traffic Management Center of the Ozarks which MoDOT operates in partnership with the city of Springfield to coordinate traffic signals in the Springfield metro area.
McKean also has served as a project manager, working out of MoDOTís district Office in Macon. Her most recent MoDOT position was district traffic engineer in the Kansas City district. She has extensive background in traffic management, highway construction and highway design and is a licensed professional engineer.
McKean replaces long-time Assistant District Engineer Dan Salisbury who retired April 1, 2015, after a 37-year career with MoDOT.