Cotten soon here no more
April 16, 2015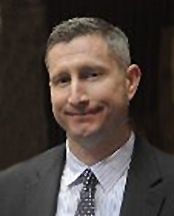 Chris Cotten, pictured, director of the Joplin Parks and Recreation, has announced that he has accepted a similar position with the city of Normal, Illinois. He will stay in Joplin until the middle of June in order to see the completion of two major city projects: the renovation of Joe Becker Stadium and the construction of Joplin's first skatepark.
Cotten joined the city in March 2011 and was faced with the challenge of reconstruction efforts after the May 22 tornado destroyed several parks and 130,000 trees in the community. Park projects that have been completed under Cotten's tenure include the Schifferdecker Aquatic Center, the rebuilding of Cunningham Park, Garvin Park, and Parr Hill Park; the addition of a dog park for Joplin residents; and the development of the Butterfly Garden and Overlook that serves as a reflection and healing site for tornado survivors. He also worked with his staff to bring the Gene Bassman Softball Complex online; develop and manage a youth soccer club; and recruit and provide amenities for both semi-pro soccer (Joplin Demize) and baseball (Joplin Blasters) to play in Joplin.
A graduate of Drury University with a B.A. in education in 1992, Cotten went on to receive a master's in sports management at Texas State University-San Marcos where he became chapter advisor for Alpha Tau Omega Fraternity. Before accepting the position in Joplin he was a past receation director in Excelsior Springs and recreation center director in Kansas City as well as the parks and recreation director for the city of Harrisonville. In 2012 he received the Outstanding Missourian Award.
"Chris has made a wonderful and long-lasting contribution to Joplin," said Joplin City Manager Sam Anselm, "and while I'm sad to see him go, I wish him, his wife Penny, and their family nothing but success as they start the next chapter in their lives. The city and residents of Normal, Illinois, are lucky to have him join their team."
Cotten and his wife Penny will be relocating with three of their four children; Cody, 12, Van, 7 and Zach, 4. Their son Brandon, 20, is planning on entering the Coast Guard boot camp soon.
According to Pantagraph.com, Cotten, 45. was chosen from a field of 49 applicants. He has accepted a salary of $122,209.